14 May 2011 17:44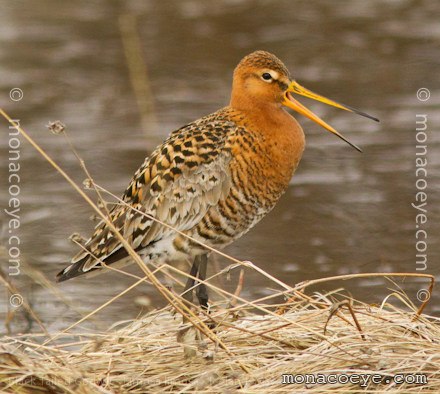 Copyright: AW/monacoeye • Iceland, May 2011 • Do not copy without permission

Bird name: Black-tailed Godwit
Latin:
Limosa limosa
Other: Barge à queue noire (Fr) • aguja colinegra (Es) • pittima reale (It) • Grutto (Nl) • Rödspov (Sv) • Maçarico-de-bico-direito (Pt)

Family:
Scolopacidae
• Waders, Godwits
Range: Widespread Eurasia - Africa, Asia, Australasia,
Iceland
Similar: Bar-tailed Godwit
Status: Near-threatened (IUCN 3.1)
A gorgeous photo of a Black-tailed Godwit in Iceland sent in by Alexia.
10 December 2010 17:07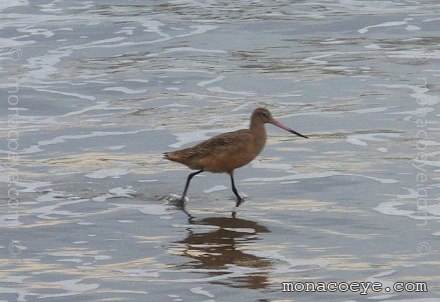 Copyright: AT/monacoeye • Point Reyes, December • Do not copy without permission

Bird name: Marbled Godwit
Latin:
Limosa fedoa
Other: Picopando canelo (Es)
Family: Scolopacidae • Waders
Range: Canada, migrating south to USA, Mexico, South America
The Marbled Godwit is a large wader with long pinkish bill with black tip. Seen here in California.
16 July 2008 19:23
064 Family:
Scolopacidae
•
Sandpipers
,
Snipes
,
Curlews
- IOC 2.5 - 2010
Scolopax rusticola
- Eurasian Woodcock - Widespread Eurasia - Asia, N Africa
Scolopax mira
- Amami Woodcock - Ryukyu Islands
Scolopax saturata
- Javan Woodcock - Sumatra, Java
Scolopax rosenbergii
- New Guinea Woodcock - New Guinea
Scolopax bukidnonensis
- Bukidnon Woodcock - Philippines
Scolopax celebensis
- Sulawesi Woodcock - Sulawesi
Scolopax rochussenii
- Moluccan Woodcock - Moluccas
Scolopax minor
- American Woodcock - E, SE North America
Coenocorypha pusilla
- Chatham Snipe - Chatham Islands
Coenocorypha iredalei
- South Island Snipe - Small islands of Stewart Is., NZ Australasia - Split from
C. aucklandica
; recently extinct
Coenocorypha huegeli
- Snares Snipe - Snares Is., NZ Australasia - Split from
C. aucklandicaCoenocorypha aucklandica
- Subantarctic Snipe - Antipodes Is., Auckland Is. NZ Australasia - New name
Lymnocryptes minimus
- Jack Snipe - C, W Eurasia - Asia, Africa
Gallinago solitaria
- Solitary Snipe - C, E Eurasia - N Asia
Gallinago hardwickii
- Latham's Snipe - E Eurasia - E Australia
Gallinago nemoricola
- Wood Snipe - S Himalayas to E India & N Vietnam
Gallinago stenura
- Pin-tailed Snipe - NE Eurasia - Asia
Gallinago megala
- Swinhoe's Snipe - C Eurasia - Asia, Australasia
Gallinago nigripennis
- African Snipe - E, SC, S Africa
Gallinago macrodactyla
- Madagascar Snipe - Madagascar
Gallinago media
- Great Snipe - NW Eurasia - Africa
Gallinago gallinago
-
Common Snipe
- Widespread Eurasia - S Europe, Africa, Asia
Gallinago delicata
- Wilson's Snipe - Widespread North America, Latin America to NW South America
Gallinago paraguaiae
-
South American Snipe
- Widespread South America
Gallinago andina
- Puna Snipe - Peru to NW Argentina
Gallinago nobilis
- Noble Snipe - Venezuela, Colombia
Gallinago undulata
-
Giant Snipe
- N, SE South America
Gallinago stricklandii
- Fuegian Snipe - extreme S South America
Gallinago jamesoni
- Andean Snipe - Venezuela to Bolivia
Gallinago imperialis
- Imperial Snipe - Colombia, Peru
Limnodromus griseus
- Short-billed Dowitcher - N North America - S South America, Latin America
Limnodromus scolopaceus
- Long-billed Dowitcher - NE, Eurasia, also Alaska - S South America, Central America
Limnodromus semipalmatus
- Asian Dowitcher - C Eurasia - Asia, Australasia
Limosa limosa
-
Black-tailed Godwit
- Widespread Eurasia - Africa, Asia, Australasia
Limosa haemastica
- Hudsonian Godwit - N North America - Southern Cone
Limosa lapponica
- Bar-tailed Godwit - N, Eurasia, also Alaska - Africa, Asia, Australasia
Limosa fedoa
-
Marbled Godwit
- C North America - S South America, Central America
Numenius minutus
- Little Curlew - NE Eurasia - Australasia
Numenius borealis
- Eskimo Curlew - NC North America - SE South America
Numenius phaeopus
-
Whimbrel
- N North America, Eurasia - widespread
Numenius tahitiensis
- Bristle-thighed Curlew - Alaska - C, S Pacific Islands
Numenius tenuirostris
- Slender-billed Curlew - C Eurasia - N Africa
Numenius arquata
-
Eurasian Curlew
- C, W Eurasia - Africa, Asia
Numenius madagascariensis
- Eastern Curlew - NE Eurasia - Australasia
Numenius americanus
- Long-billed Curlew - W, WC North America - S South America through Central America
Bartramia longicauda
- Upland Sandpiper - EC, C, NW North America - SE South America
Tringa erythropus
-
Spotted Redshank
- N Eurasia - SW EU, Africa, Asia
Tringa totanus
-
Common Redshank
- W, C Eurasia - SW EU, Africa, Asia
Tringa stagnatilis
-
Marsh Sandpiper
- C Eurasia - Africa, Asia, Australasia
Tringa nebularia
-
Common Greenshank
- Widespread Eurasia - SW EU, Africa, Asia, Australasia
Tringa guttifer
- Nordmann's Greenshank - E Eurasia - Asia
Tringa melanoleuca
- Greater Yellowlegs - N North America - S South America, Latin America
Tringa flavipes
-
Lesser Yellowlegs
- N North America - S South America, Latin America
Tringa ochropus
-
Green Sandpiper
- Widespread Eurasia - SW EU, Africa, Asia
Tringa solitaria
-
Solitary Sandpiper
- N North America - Latin America, also Caribbean
Tringa glareola
-
Wood Sandpiper
- Widespread Eurasia - Africa, Asia, Australasia
Tringa brevipes
- Grey-tailed Tattler - NE, NC Eurasia - Malay Peninsula through Australasia - Was
HeteroscelusTringa incana
- Wandering Tattler - NW North America - W South America, S Pacific islands
Tringa semipalmata
-
Willet
- E, C, SE North America - SW North America, Latin America - Was
CatoptrophorusXenus cinereus
- Terek Sandpiper - Widespread Eurasia - Africa, Asia, Australasia, also Middle East
Actitis hypoleucos
-
Common Sandpiper
- Widespread Eurasia - Africa, Asia, Australasia, also Middle East
Actitis macularius
-
Spotted Sandpiper
- Widespread North America - S South America through Latin America
Aechmorhynchus parvirostris
- Tuamotu Sandpiper - Tuamotu Archipelago
Prosobonia leucoptera
- Tahiti Sandpiper - Society Islands
Arenaria interpres
-
Ruddy Turnstone
- N North America, Eurasia - Worldwide
Arenaria melanocephala
- Black Turnstone - NW North America - W North America coast
Aphriza virgata
- Surfbird - NW North America - W North America , Latin America coasts
Calidris tenuirostris
- Great Knot - NE Eurasia - Asia, Australasia
Calidris canutus
-
Red Knot
- N North America, Eurasia - South America, Europe, Africa, Australasia
Calidris alba
-
Sanderling
- N North America, Eurasia - Worldwide
Calidris pusilla
- Semipalmated Sandpiper - N North America - Latin America, Caribbean
Calidris mauri
- Western Sandpiper - N North America - North America, Central America, N South America
Calidris ruficollis
- Red-necked Stint - NE Eurasia - Asia, Australasia
Calidris minuta
-
Little Stint
- N Eurasia - E EU, Africa, India
Calidris temminckii
- Temminck's Stint - N Eurasia - Africa, Asia, Middle East
Calidris subminuta
- Long-toed Stint - C, NE Eurasia - Asia, Australasia
Calidris minutilla
- Least Sandpiper - N North America - S South America, Latin America
Calidris fuscicollis
-
White-rumped Sandpiper
- N North America - Southern Cone
Calidris bairdii
-
Baird's Sandpiper
- N North America - W, S South America
Calidris melanotos
-
Pectoral Sandpiper
- N North America, Eurasia - Australasia, Southern Cone
Calidris acuminata
- Sharp-tailed Sandpiper - NE Eurasia - Australasia
Calidris ferruginea
- Curlew Sandpiper - N Eurasia - Africa, Asia, Australasia, also Middle East
Calidris maritima
- Purple Sandpiper - N North America, Eurasia - E North America, W Europe
Calidris ptilocnemis
- Rock Sandpiper - Eurasia, North America - W North America coast
Calidris alpina
-
Dunlin
- N North America, Eurasia - S North America, Africa, S EU
Calidris himantopus
- Stilt Sandpiper - N North America - SC South America
Eurynorhynchus pygmeus
- Spoon-billed Sandpiper - NE Eurasia - Asia
Limicola falcinellus
- Broad-billed Sandpiper - N Eurasia - Africa, Asia, Australasia, also Middle East
Tryngites subruficollis
-
Buff-breasted Sandpiper
- N, North America, also NE Europe - SE South America
Philomachus pugnax
-
Ruff
- N Eurasia - Africa, SW EU, India
Phalaropus tricolor
- Wilson's Phalarope - C North America - S South America
Phalaropus lobatus
- Red-necked Phalarope - N North America, Eurasia - W, E Pacific, N Indian Ocean
Phalaropus fulicarius
- Red Phalarope - N North America, Eurasia - SE Pacific, SE Atlantic