20 December 2010 12:19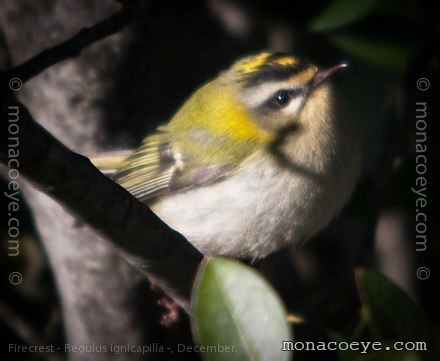 Copyright: monacoeye • France, December 2010 • Do not copy without permission

Bird name: Common Firecrest
Latin:
Regulus ignicapilla
Other: Firecrest • Roitelet à triple bandeau (Fr), Reyezuelo listado (Es), Fiorrancino (It)
Family: Regulidae • Goldcrests
Range: Europe into Turkey
The Firecrest is a superb little bird, which I have only recently discovered. December seems to be a good time to see them in this part of the Mediterranean coast in southeast France.
Firecrests are very small chubby birds, with big white bellies, small tails and no visible neck. They have a characteristic yellow or orange stripe, between two black stripes, on the crown, and a dash of orange above the bill. The broad white supercilium which extends back from the eye differentiates them from the otherwise very similar Goldcrest. Backs are greenish yellow.
This bird was working Holm Oaks, seemingly checking every branch and leaf, presumably for small insects. He was not too wary, and continued feeding in one tree, despite my presence, only moving on when he had finished the whole tree.
More photos...
03 February 2008 23:38
197 Regulidae - Goldcrests, kinglets - IOC 2.5 - 2010
Regulus ignicapilla
-
Common Firecrest
- W Eurasia - New name
Regulus goodfellowi
- Flamecrest - Taiwan
Regulus regulus
- Goldcrest - Widespread Eurasia
Regulus madeirensis
- Madeira Firecrest - Madeira - New name
Regulus satrapa
- Golden-crowned Kinglet - Widespread North America, Middle America
Regulus calendula
- Ruby-crowned Kinglet - Widespread North America - Central America