20 March 2013 19:30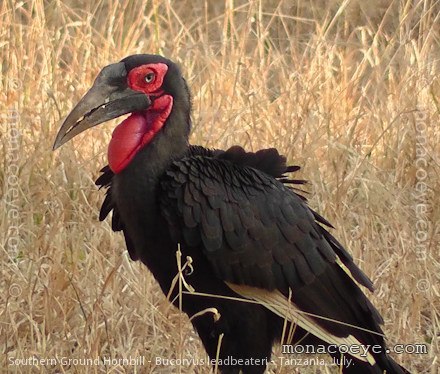 © Tom C - monacoeye • Tanzania


Bird name: Southern Ground Hornbill
Latin:
Bucorvus leadbeateri
Other: Bucorve du Sud (Fr), cálao terrícola (Es), Südliche Hornrabe (De), zuidelijke hoornraaf (Nl)

Family:
Bucorvidae
-
Ground Hornbills
Range: N Angola, N Angola, N South Africa to Burundi, Kenya, Tanzania

Similar:
The Southern Ground-Hornbill is the largest species of Hornbill - over a metre in length. Photographed above by Tom in Tanzania and below, in the Serengeti, by André.
More photos...
06 June 2008 23:38
099
Bucorvidae
-
Ground Hornbills
- IOC 2.5 - 2010
Hornbills (Bucerotidae) and Ground Hornbills (Bucorvidae) sister taxa related to hoopoes and wood hoopoes
Bucorvus abyssinicus
- Abyssinian Ground Hornbill - E, C, W Africa
Bucorvus leadbeateri
-
Southern Ground Hornbill
- E, SE, SC Africa