31 January 2012 12:40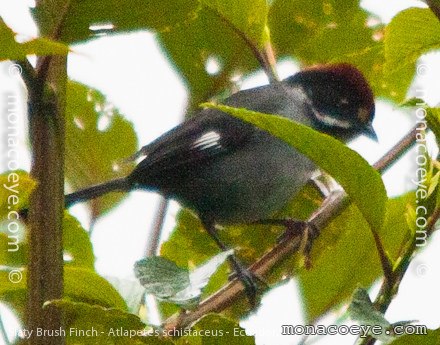 Copyright: monacoeye • All rights reserved • Guango Lodge, Ecuador, March 2011

Bird name: Slaty Brush Finch
Latin:
Atlapetes schistaceus
Other: Matorralero pizarroso (Es)

Family:
Emberizidae
•
Brush Finches
Range: Venezuela, Colombia, Ecuador, Peru
Similar: Bay-crowned Brush Finch
Ridgely says the Slaty Brush Finch is the only Brush Finch with whitish-grey underparts on the eastern slope, so these birds must be Slaty Brush Finch then. They occur at high altitude, between 2500 and 3400 m - I saw them at 2800 at Guango Lodge on the eastern slope in Ecuador.
The White-winged Brush Finch has whitish-grey underparts, a white wing bar, dark head, rufous head stripe, dark malar stripe, and light patch above the bill.
More photos...