29 May 2010 23:33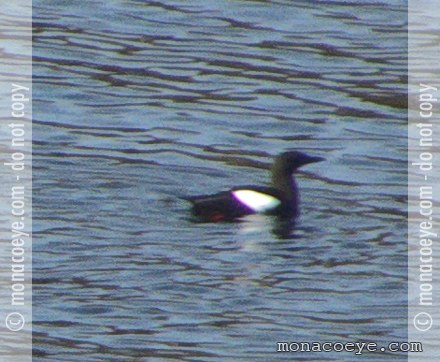 Photos copyright: AW/monacoeye • Do not copy • Iceland • May 2010

Bird name: Black Guillemot
Latin:
Cepphus grylle
Other: Tystie
Family:
Alcidae
•
Auks
, Guillemots
Range: Iceland to Maine, UK, Ireland
The Black Guillemot, is in the Auk family, with Puffins. Recognised here, in summer plumage, by its characteristic white oval wing patches, and red legs. Whitish underwing (see "more photos").
The Black Guillemot's range is mostly in the north Atlantic: Iceland, Scandinavia, Scotland etc.
More photos...
29 May 2010 23:31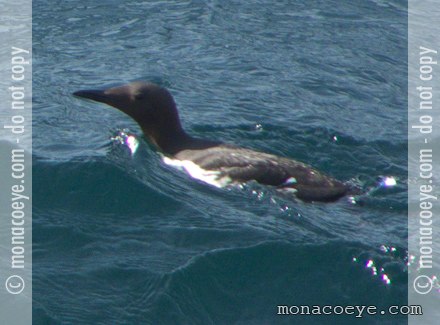 Photos copyright: AW/monacoeye • Do not copy • Iceland • May 2010

Bird name: Common Guillemot
Latin:
Uria aalge
Other: Guillemot, Common Murre
Family: Alcidae • Auks
Range: Iceland, low Arctic circumpolar band, as far south as France for one ssp.
The Guillemot has a black head and wings with some streaking on flanks (especially in winter) and white belly.
The Guillemot is another north Atlantic bird, which breeds in Iceland, parts of Britain and Scandinavia. These ones spotted at sea in Iceland.
More photos...