28 December 2009 00:28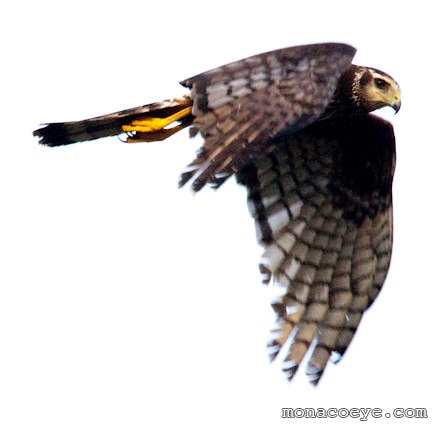 Photo copyright: monacoeye • Do not copy • Images: Lagoa do Peixe, RS • November 2009

Bird name: Long Winged Harrier
Latin:
Circus buffoni
Other: Gavião-do-banhado, Tartaranhão-do-brejo (Br) • Aguilucho grande, Aguilucho de Azara, Gavilán planeador (Es)
Family:
Accipitridae
•
Harriers
, Birds of Prey
Range:
Similar:
The Long-winged Harrier was one of the more common birds of prey in the Lagoa do Peixe area. It lives in southeastern Brazil and neighbouring countries, migrating higher up South America in the winter, when it can be found as far north as Belem.
There are two types of Long-winged Harrier in Brazil, a light and a dark form, both of which were present near Mostardas. The pale form, above with frog, has a white belly and much white on underside of wings.
In the dark form, the light areas are replaced by black in the male and brown in the female. Both have rings round the neck, and a white face, with some dark around the eye. The tip of the bill is dark. The dark bars on light wings give the impression of small squares drawn on the underside of the wings.
Wings are long and swept back in a v-shape with long fingers.
More photos...