29 March 2013 15:55
© AW - monacoeye • Iceland, May.

Bird name: Semipalmated Plover
Latin:
Charadrius semipalmatus
Other: Batuíra-de-bando (Br) • Chorlo Semipalmado (Es)
Family:
Charadriidae
•
Lapwings & Plovers
Range: Arctic, migrating S to US and S America

Similar: Common Ringed Plover
Semipalmated Plover look very similar to Common Ringed Plover so treat these IDs with caution.
Above Semipalmated Plover in Iceland ?
Although the Semipalmated Plover is marked as a vagrant to Brazil in some guides, it is in fact present the length of the Brazilian coastline.
The (presumed) Semipalmated Plover below were photographed on the beach near Lagoa do Peixe in Rio Grande do Sul, in southern Brazil, in November.
They were identified by their collar, small amount of yellow at base of bill and yellowish legs.
Semipalmated Plover migrate from Arctic breeding grounds to the US and South America during the northern winter.
Lagoa do Peixe, RS • November 2009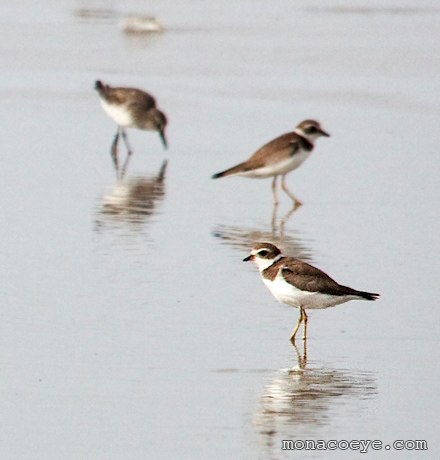 More photos...