31 March 2013 10:26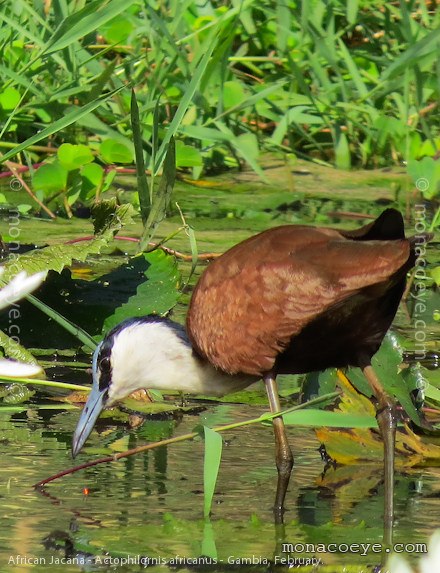 © GW - monacoeye • All rights reserved, Gambia, 2013


Bird name: African Jacana
Latin:
Actophilornis africanus
Other: Jacana à poitrine dorée (Fr), jacana africana (Es), jacana-africana (Pt), Blaustirn-Blatthühnchen (De), grootlangtoon (Af)

Family:
Jacanidae
•
Jacanas
Range: Sub-saharan Africa incl Gambia

Similar:
The African Jacana breeds throughout sub-Saharan Africa. Like all Jacanas it is able to walk over floating lily pads and other floating vegetation.
In Gambia, it was quite common in locations with floating vegetation, but surprisingly difficult to photograph.
The adult African Jacana has a
blue frontal head shield
, white face and neck,
black eye stripe and nape
, the juvenile is light brown.
African Jacana walking on lily pads, Gambia, Feb 2013
Juvenile African Jacana is all brown, Kartong, Gambia, Feb 2013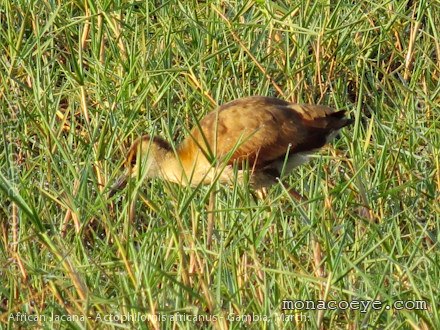 More photos...
17 December 2009 09:54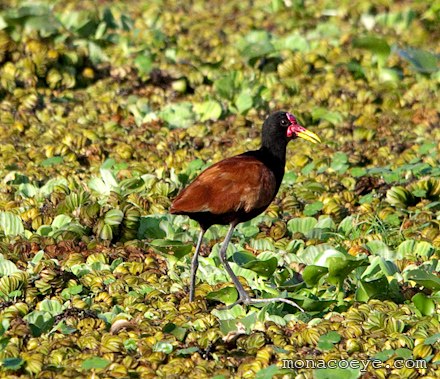 Photo copyright: monacoeye • Do not copy • Images: Mostardas, Brazil • November 2009

Bird name: Wattled Jacana
Latin:
Jacana jacana
Other: Jaçanã (Br) • Jacana común (Es)
Family:
Jacanidae
•
Jacanas
The Wattled Jacana lives mostly in South America east of the Andes. It has large feet which allow it to walk over floating plants. The adult is unmistakable although the young are much whiter and are without black or red colouring.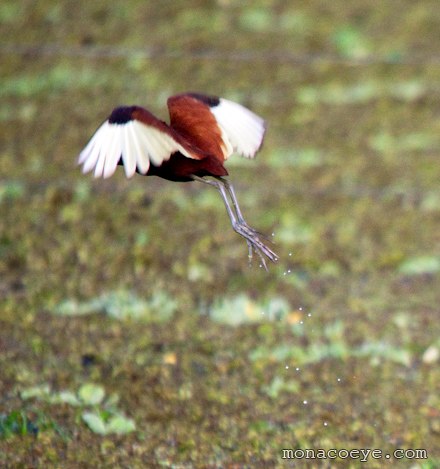 More photos...
19 July 2008 19:22
061
Jacanidae
•
Jacanas
- IOC 2.5 - 2010
Microparra capensis
- Lesser Jacana - C, E, SE Africa
Actophilornis africanus
-
African Jacana
- Widespread Africa
Actophilornis albinucha
- Madagascar Jacana - Madagascar
Irediparra gallinacea
- Comb-crested Jacana - Sulawesi to N, E Australia, Australasia, also Philippines
Hydrophasianus chirurgus
- Pheasant-tailed Jacana - Widespread Asia
Metopidius indicus
- Bronze-winged Jacana - Widespread Asia
Jacana spinosa
- Northern Jacana - Middle America, also Caribbean
Jacana jacana
-
Wattled Jacana
- Widespread South America