15 July 2011 19:18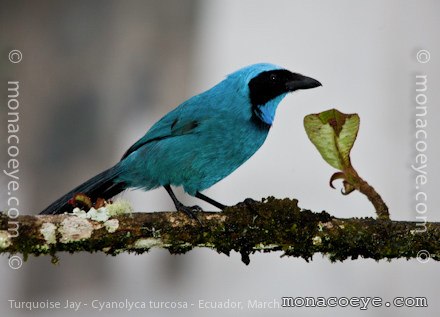 Copyright: monacoeye • Do not copy without permission • Guango, Ecuador, Feb 2011

Bird name: Turquoise Jay
Latin:
Cyanocorax turcosa
Other: Urraca Turquesa (Es)

Family:
Corvidae
•
Crows
,
Jays
Range: Southern Colombia, Ecuador, northern Peru
Similar: Black-collared Jay, Beautiful Jay
Turquoise Jays are the most visible large bird around Guango Lodge in Ecuador. They come close to the lodge in the morning and feast on the insects attracted by the night lights.
They have an electric blue plumage under flash, and are bright cobalt blue in normal light, with black eyemask and thin chinstrap - unlike the rarer Black-collared Jay which has a thick chin strap.
They live at altitude - 2 to 3 thousand metres - so higher than Inca Jays, though their ranges overlap a little at Guango.
One also seen in Bellavista.
Below, a Turquoise Jay at Guango Lodge in Ecuador. Copyright: monacoeye.com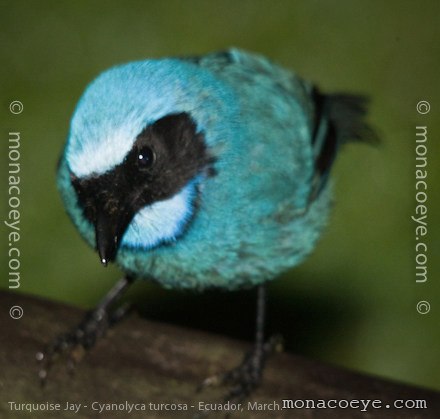 More photos...