11 December 2010 18:15
Copyright: monacoeye • Do not copy without permission • Panama, April 2010

Bird name: Lesser Kiskadee
Latin:
Philohydor lictor
Other:
Pitangus lictor
• Bem-te-vizinho (Br)
Family: Tyrannidae • Tyrant Flycatchers
Range: Panama to Brazil
Similar:
Social Flycatcher
, Rusty-Margined Flycatcher, Great Kiskadee
These Lesser Kiskadees were seen together alighting on narrow branches above a shady brook at the Ammo Ponds in central Panama. They are usually seen in pairs and near water.
They look very similar to the
Rusty Margined Flycatcher
, but have longer more pointed bills than the latter.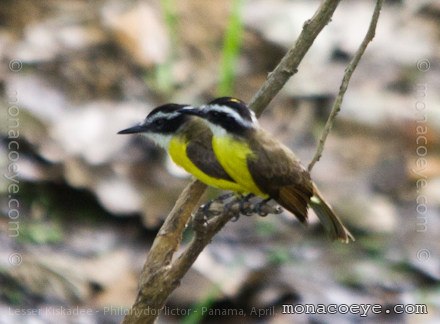 More photos...
28 January 2010 19:05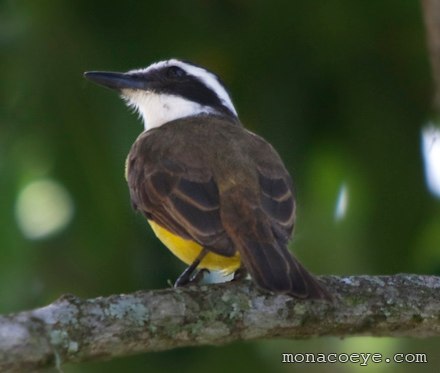 Photo copyright: monacoeye • Do not copy • Images: Brazil • November 2009

Bird name: Great Kiskadee
Latin:
Pitangus sulphuratus
Other: Bem-te-vi (Br) • Benteveo (Es)
Family: Tyrannidae • Tyrant Flycatchers
The Great Kiskadee is a common bird in Latin America and throughout Brazil, where it's known as Bem-te-vi (good to see you) - one of a complex of similar-looking birds.
Two other birds in Brazil with yellow belly, brown upperside, white chest and neck, black eye-stripe, white superciliary stripe are the Social Flycatcher and Boat-billed Flycatcher, though there are about ten other such doppelgangers in Brazil alone.
The Great Kiskadee is a bit larger than the Social Flycatcher, with heavier and straighter bill. Easy to recognise by its omnipresent and song: "kiskadee" or "bem-ti-vi". It has a yellow crest.
Below ("more photos" link) is an odd, presumed Great Kiskadee with dark streaking on underparts, seen in Lagoa do Peixe. In Rio Grande do Sul, Great Kiskadees were seen mobbing birds of prey on several occasions. In Ubatuba, they were seen flying over the ocean waves. Great Kiskadees are one of the few passerines which sometimes fish.
Spanish names: cristofué, benteveo, bicho feo, bienteveo común, pecho amarillo, cierto guïs and pitogüé
More photos...