07 March 2010 18:53
Photo copyright: monacoeye • Do not copy • Images: Italy - Romania • May 2009

Bird name: Eurasian Tree Sparrow
Latin:
Passer montanus
Other: Moineau friquet (Fr)
Family: Passeridae • Sparrows
The Tree Sparrow is far less common than the similar House Sparrow and can be easily differentiated by the small patch of black on its cheek and wholly rufous top of head. Also found throughout Europe and much of Asia.
More photos...
07 February 2010 21:53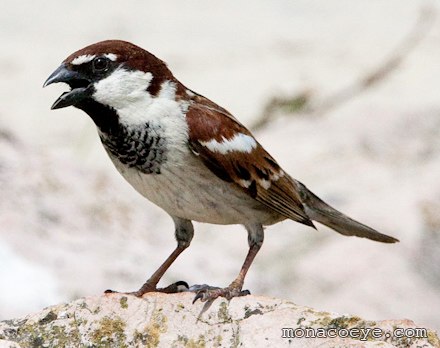 Photo copyright: monacoeye • Do not copy • Lake Garda, Italy. May 2009

Bird name: Italian Sparrow
Latin:
Passer italiae
Other:
Passer hispaniolensis
• Passera d'Italia (It), passero italiano • Italiensperling (De)
Family: Passeridae • Sparrows
Range: Mainland Italy, Corsica, Sicily
The Italian Sparrow is sometimes considered a subspecies of Spanish Sparrow or hybrid with House Sparrow.
The male has a full chestnut cap and white cheeks like the Spanish Sparrow but pale belly without black spotting, so unlike the Spanish Sparrow in that respect.
The female (below) looks like the female House Sparrow, but identified here by proximity to males.
Some possible photos of courtship below in "more photos". She pecks him on the head, they both bow and display plumage.
Alternatively, It seems these may not be courtship scenes at all. Two other theories are that the female may be competing aggressively for food (I had a sandwich), which happens the during breeding season. Or she may be an invasive House Sparrow and attacking the male Italian Sparrow for territory.
These photos were taken by Lake Garda in Northern Italy, a typical location for the Italian Sparrow.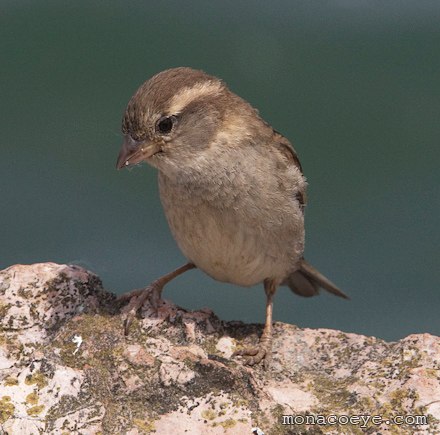 More photos...
07 May 2009 17:58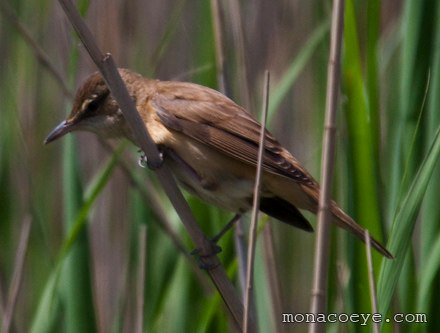 Photos copyright: monacoeye • Etang de Villepey St Aygulf • May 2009 • Do not copy without permission

Bird name: Great Reed Warbler
Latin:
Acrocephalus arundinaceus
Other: Rousserolle turdoïde (des rivières)
Family: Acrocephalidae • Reed Warblers
Pleased to observe this Great Reed Warbler in Hyeres at the weekend. It alerted us to its presence by its loud song and soon appeared to collect bedding material for its nest in the reeds from the salt lake. Later it flew to a high point and started singing loudly. Quite a large bird, about the size of a starling.
More photos...