29 March 2013 10:47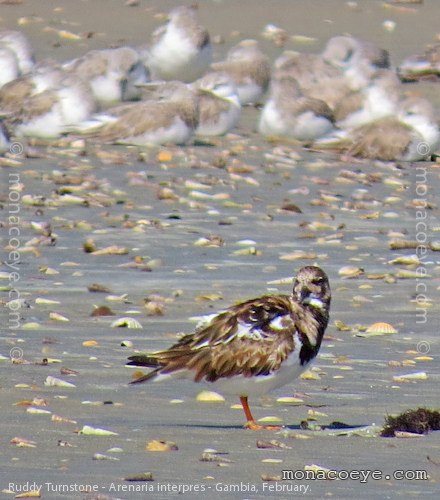 © GW - monacoeye • Gambia, Feb 2013.

Bird name: Ruddy Turnstone
Latin:
Arenaria interpres
Other: Turnstone (UK) • Rola-do-mar, vira-pedras (Pt) • Tournepierre à collier (Fr) • Steinwälzer (De) • Vuelvepiedras común (Es) • Steenloper (Nl) • Roskarl (Sv)

Family:
Scolopacidae
•
Sandpipers
Range: Breeds N coastlines, eg Scandinavia, Iceland, Alaska, migrating S worldwide eg Washington, Brazil, China, Japan, Gambia

Similar:
The Turnstone is identifiable by orange legs and dark chest pattern and its behaviour of flipping over stones when looking for insects or crustaceans.
Above, on beach in Gambia, February, with Sanderling..
Many thanks to Alexia for sending in the photos of Turnstones below, in non-breeding plumage, in Madeira, October, and coming into breeding plumage in Iceland, April.
Directly below, Ruddy Turnstone in Iceland, April, soon in full breeding plumage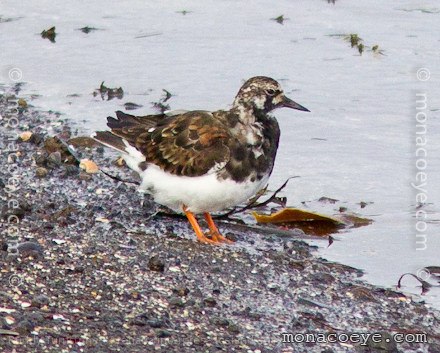 More photos...