09 October 2012 12:27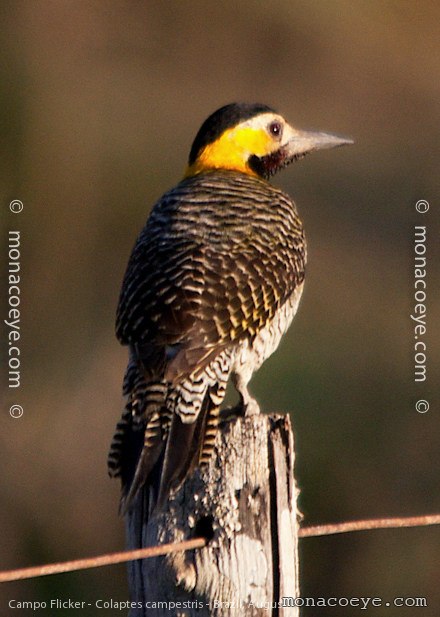 © monacoeye • Transpantaneira, Brazil, 2011 • All rights reserved

Bird name: Campo Flicker
Latin:
Colaptes campestris
Other: Field Flicker • Br: Pica-pau-do-campo, Chanchã, Chanchão, Pica-pau-de-manga, Pica-pau-malhado • Es: Carpintero Campestre
Family:
Picidae
•
Woodpeckers
• Flickers
Range: Brazil, Bolivia, Paraguay, Uruguay, NE Argentina

Similar:
The Campo Flicker, is a widespread type of flicker, or woodpecker, found in Brazil. Often walks on the ground or perches not far from it, sometimes in exposed areas like lawns or roadsides. Often seen in pairs or groups. Not very timid.
Pictured above is the nominate subspecies,
Colaptes c. campestris,
which has a black throat, and perhaps more orange than yellow around the throat - photographed here in the Pantanal. Males have a red moustachial stripe and females a black one.
Pictured below is the southern white-throated subspecies,
Colaptes campestris campestroides,
also called the Field Flicker - photo in Rio Grande do Sul in southern Brazil, perched on a rather uncomfortable looking cactus.
Below, Field Flicker, showing white throat, Mostardas, Brazil, 2009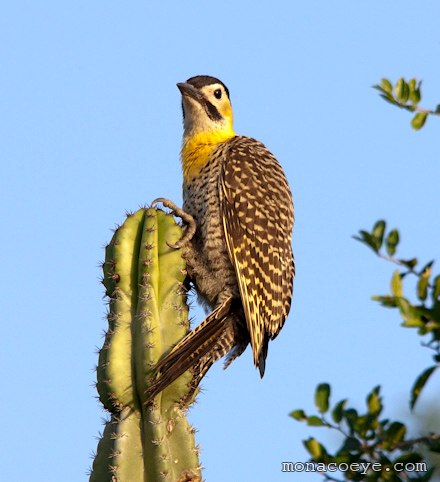 More photos...