01 April 2013 08:40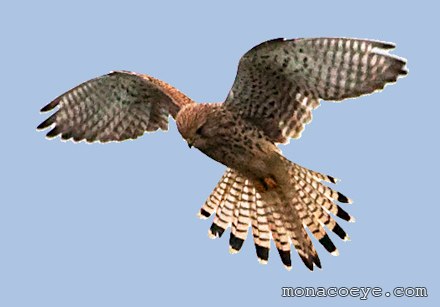 © monacoeye • Female kestrel hovering, France • 2009

Bird name: Common Kestrel
Latin:
Falco tinnunculus
Other: Kestrel (UK), Faucon Crécerelle (Fr), Turmfalke (De), Cernícalo vulgar (Es), Gheppio comune (It), Torenvalk (Nl), Tornfalk (Sv), Peneireiro-vulgar (Pt)

Family:
Falconidae
•
Falcons
,
Kestrels
Range: Europe, Asia, India, Africa

Similar: Lesser Kestrel
The male Kestrel has a grey cap and tail, while the female is brown. Both have the dark malar stripe characteristic of falcons.
There are many races of Kestrel each with slightly different patterning. In France the nominate
tinnunculus
race is present, while in Gambia the
rufescens
race is found (see below). Male
rufescens
have more heavily barred upperside than
tinnunculus
; female
rufescens
are deeper brown and more barred than
tinnunculus
.
Kestrels are one of the most abundant and visible birds of prey in Europe - often seen
hovering in mid air
before swooping down to catch a lizard or small mammal.
They are
small
birds, a little larger than pigeons.
Below, male Common Kestrel wing pattern.
Falco tinnunculus tinnunculus,
France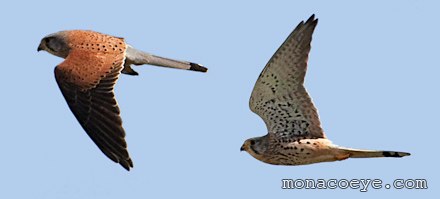 Common Kestrel brings
agama
lizard to juv?
Falco tinnunculus rufescens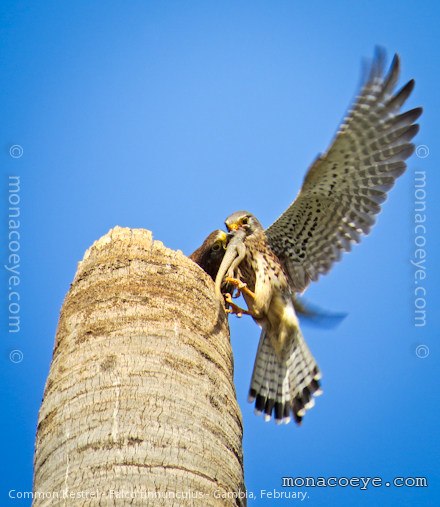 Below, Common Kestrel.
Falco tinnunculus rufescens.
Gambia, Feb 2013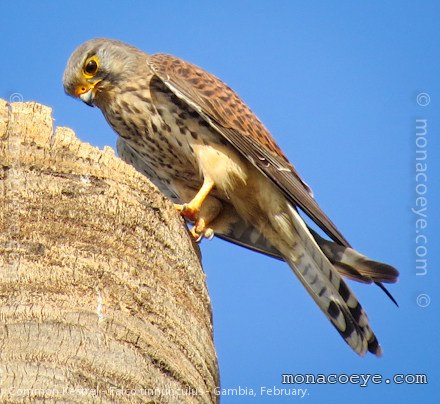 More photos...