16 March 2013 22:47
Copyright: GW - monacoeye • Gambia, Feb 2013 • All rights reserved

Bird name: Little Bee Eater
Latin:
Merops pusillus
Other: Guêpier nain (Fr), Abejaruco chico (Es), Zwergspint (De)

Family:
Meropidae
•
Bee Eaters
Range: Sub-saharan Africa, incl Gambia, Tanzania, Namibia etc
Similar:
The Little Bee-eater is found throughout much of sub-Saharan Africa. I saw them fairly frequently in dry scrubland near the coast in Gambia, often in pairs or groups.
The Little Bee-Eater has a bright yellow throat, bright red iris, black eye stripe, ochre belly bordered at the neck by a black line, greenish head and back. Sometimes visible a blue supercilium (different subspecies?).
There are 24 species of Bee-eater worldwide, mostly in the genus
Merops
. Bee-eaters live in the Old World from Africa to Australia, with the highest number in Africa.
They almost exclusively eat insects, usually catching them on the wing, with a predilection for bees and wasps. Insects with stings are knocked against a hard surface then rubbed, with the bird's eyes closed, to discharge the venom.
Below, Little Bee-eater in the dry season, Gambia, February.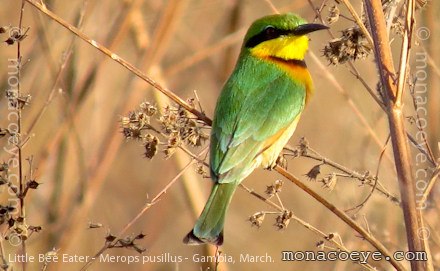 More photos...