04 January 2012 13:58
Copyright: monacoeye • Mindo Lindo, Ecuador, February • Do not copy without permission

Bird name: Velvet Purple Coronet
Latin:
Boissonneaua jardini
Other: Coronita Aterciopelada, Colibrí sietecolores (Es)

Family:
Trochilidae
•
Hummingbirds
Range: Andes; Colombia, Ecuador
Similar:
The Velvet Purple Coronet is a very striking bird with superb deep purple plumage. The head and chest can often look black. In Ecuador found northwest of Quito, in mid-altitude forest - seen here at Mindo Lindo Lodge, for example.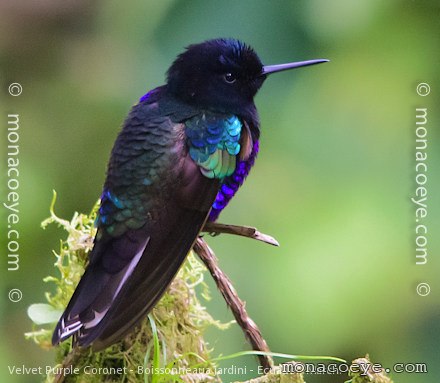 More photos...
17 July 2011 11:20
Copyright: monacoeye • Santa Lucia, Ecuador • Feb 2011 • Do not copy without permission

Bird name: Booted Racket Tail
Latin:
Ocreatus underwoodii
Other: Colaespátula zamarrito (Es)

Family:
Trochilidae
•
Hummingbirds
Range: N Venezuela, Colombia,
Ecuador
, Bolivia
Similar: Purple-bibbed White-tip female
The Booted Racket-Tail was one of the first hummingbirds I saw in Ecuador, at 1800 m altitude at the Santa Lucia Reserve feeders. Then at other feeders, for example, the excellent hummingbird set-up at Mindo Lindo, and at nearby Septimo Paraiso, but not lower down in the town of Mindo.
The male Booted Racket-Tail (above) is instantly recognisable by its long tail feathers, terminating in purple "rackets" (more difficult to identify when regrowing these feathers) and fluffy white thigh "boots". Otherwise mostly green, with white post-ocular mark and brown wings.
The female (directly below) is more difficult to identify. She has a normal-sized tail, white chest and underparts, greenish upperside (coppery with flash) which stretches down round the sides leaving a few spots on the belly. She has smaller thigh puffs, pale feet, dark bill, white post-ocular spot, white tail-tip, and faint short white malar stripe.
There are two subspecies in Ecuador:
peruanus
female has buff thighs and crissum and more spotting on chest,
melanantherus
- the one seen NW of Quito - has white puffs and crissum and white chest.
Directly below, a female Booted Racket-Tail in northwest Ecuador. Copyright monacoeye.

More photos...