09 September 2012 10:45
Copyright monacoeye • Itatiaia November 2009

Bird name: Shiny Cowbird
Latin:
Molothrus bonariensis
Other: Vira-bosta (Br) • Tordo (Es), Tordo común, Tordo renegrido

Family:
Icteridae
•
Cowbirds
Range: SE USA though C South America, Brazil etc

Similar: Bronzed Cowbird, Screaming Cowbird,
Chopi Blackbird
The Shiny Cowbird is one of a few entirely black birds to be found in Brazil. The photo above is a presumed female - the adult male (below) is deep blue-black and shiny.
The Shiny Cowbird's range covers much of Latin America and has recently extended into Chile and Florida.
It's usually seen in groups but not always. It tends to walk around on the ground and looks more relaxed than the male Ruby-crowned Tanager. The Chopi Blackbird has a more peaked head and has a grooved bill.
The Shiny Cowbird, not beloved by many birders, is a brood parasite, like the European Cuckoo, laying its eggs in the nests of other birds, and in some cases endangering host species survival.
Below, the bird on the right looks like a male Shiny Cowbird, Pantanal, Aug 2011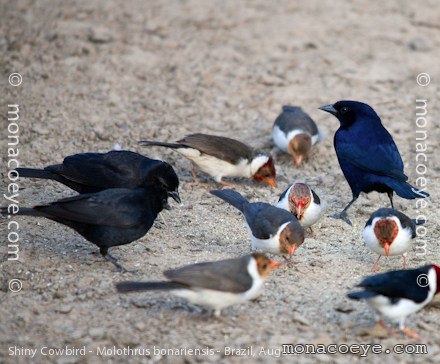 More photos...