04 November 2011 16:24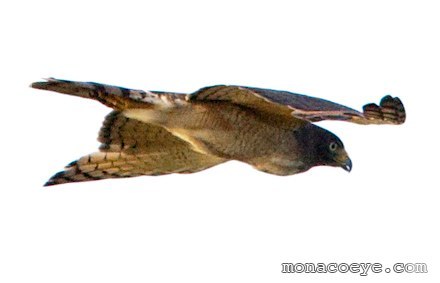 Copyright: monacoeye • Do not copy without permission • Lagoa do Peixe, Brazil • Nov 2009

Bird name: Roadside Hawk
Latin:
Buteo magnirostris
Other: Gavião-carijó (Br) • Gavilán pollero (Es), Aguilucho de ala rojiza, Taguato común

Family:
Accipitridae
•
Hawks
, Birds of Prey
Range: Latin America, Mexico to Argentina, incl Brazil
Similar:
The Roadside Hawk has a dark head with pale irises and usually pale barred chest and underwings. Topside of wings are dark, with a rufous wing patch on primaries. This rufous patch, usually just visible on perched birds, is diagnostic for Roadside Hawk.
The Roadside Hawk is typically the most frequently seen bird of prey when birding in Latin America, so it is a good bird to learn to identify.
Tail has thick brown and white horizontal stripes. Bill base is yellowish with dark tip and perhaps some light blue in the middle.
There are several subspecies and morphs, where dark brown is replaced by grey. Upper chest can be dark (Panama) or vertically striped (Brazil).
In the Pantanal in August I saw Roadside Hawks on most days - near roads, rivers and in forest. Near Mindo, Ecuador, in April, it was also the most common and visible bird of prey.
Below, Roadside Hawk mobbed in El Valle, Panama, May 2010. Dark throat and chest.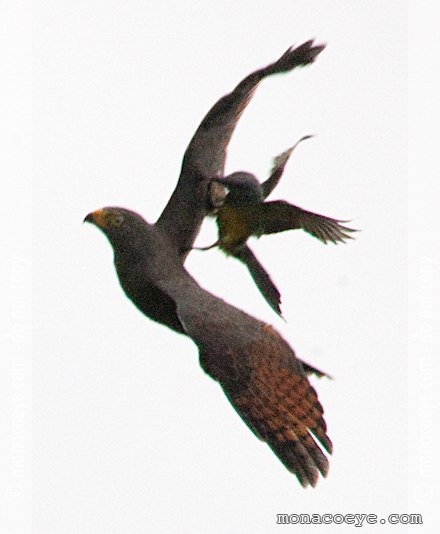 Below, a pair of Roadside Hawks in Mindo, Ecuador, April 2011. Yellow irises, orange ceres, grey throat and chest, rufous primaries just visible in perched birds. Thin white barring lines on underside.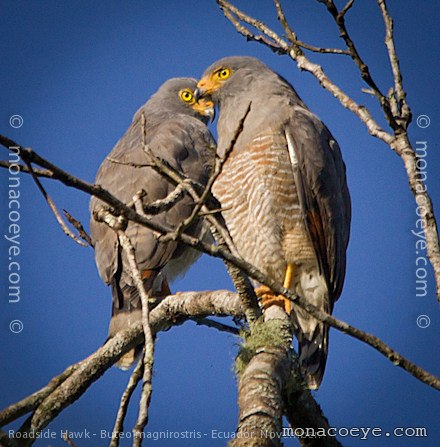 More photos...
29 March 2011 00:02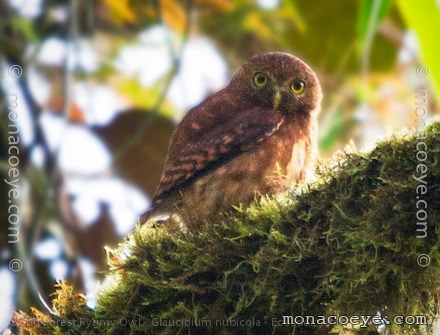 Copyright: monacoeye • Santa Lucia, Ecuador, Feb 2011 • Do not copy without permission

Bird name: Cloud Forest Pygmy Owl
Latin:
Glaucidium nubicola
Other: Cloud-forest Pygmy-Owl • Mochuelo ecuatoriano (Es)

Family:
Strigidae
•
Owls
Range: Colombia and Ecuador

Similar: Andean Pygmy Owl
The guide I was with in Santa Lucia was convinced that the bird above was a rare Cloud-forest Pygmy-Owl. On my first morning's birding in Ecuador, no less. We had just left the Santa Lucia Lodge and were observing some of the regular warblers and tanagers when the guide homed in on a great commotion of birds in a couple of trees.
He became very excited, believing this to indicate the presence of an owl, and scanned the branches for some time trying to find the bird. Eventually he did locate the small Pygmy Owl, which was sitting calmly on a bough with warblers, tanagers and flycatchers all around, mobbing it.
On examination he believed it to be a Cloud-forest Pygmy Owl, which he had only previously heard once, and never seen. It's a rare bird, classed Vulnerable on the IUCN 3.1 list, with an estimated population of only a few thousand individuals. It has been recorded in Pichincha.
But although I'm happy to defer to more learned opinion, the photo itself is unlikely to be conclusive proof, as the Andean Pygmy-Owl,
Glaucidium jardinii
, although scarce, is much more common with larger range, and looks very similar, with longer tail and more extensive pale spotting or barring on back, sides of chest and flanks. So unless an expert weighs in, the bird pictured could probably be either Cloud-Forest or Andean.
The Andean Pygmy-Owl is generally found above 2000m and the Cloud-forest Pygmy-Owl below 2000m - the photo was taken at about 1900m altitude.
More photos...