02 February 2011 12:18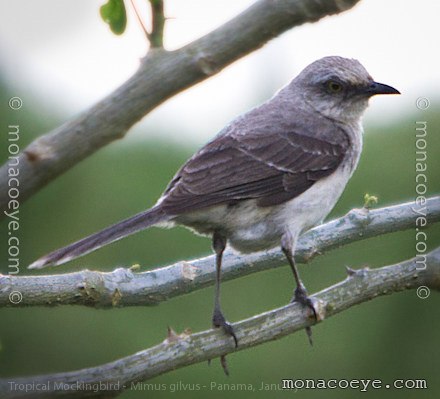 Copyright: monacoeye • Do not copy without permission • Chiriqui, Panama 2010

Bird name: Tropical Mockingbird
Latin:
Mimus gilvus
Other: Sinsonte, cenzontle tropical (Es) • Sabiá-da-praia (Br)

Family: Mimidae • Mockingbirds
Range: S Mexico to El Salvador, N, E South America
The Tropical Mockingbird which is endemic west of El Salvador and east of Colombia, was apparently introduced to Panama - I saw them at the Ammo Dump and in Chiriqui.
Light grey underneath with dark eye stripe and light iris.
More photos...
03 January 2010 00:08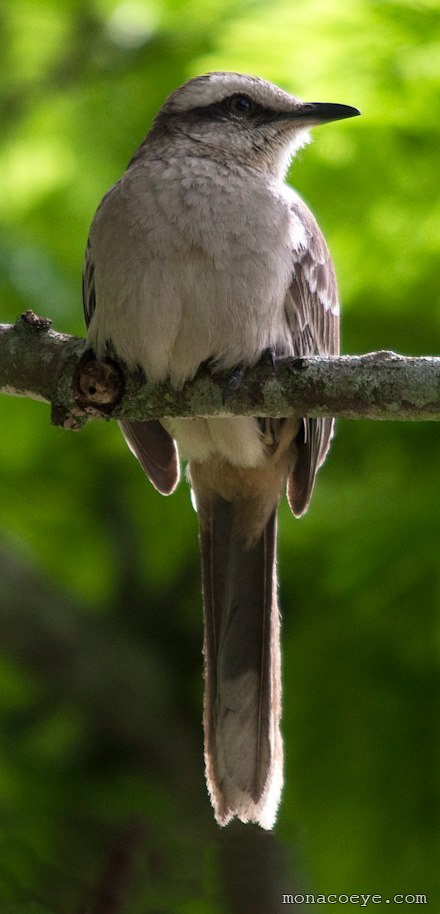 Photo copyright: monacoeye • Do not copy • Lagoa do Peixe • November 2009

Bird name: Chalk Browed Mockingbird
Latin:
Mimus saturninus
Other: Sabiá-do-campo (Br) • Calandria común (Es), Tenca, Cenzontle de cejas blancas

Family: Sturnidae / Mimidae • Mimids • Mockingbirds
Range: Amazonia, Brazil, SE South America
This Chalk Browed Mockingbird was seen in Itatiaia.
27 January 2008 11:27
204 Mimidae - Mockingbirds, Thrashers
Dumetella carolinensis
- Grey Catbird - Widespread North America
Melanoptila glabrirostris
- Black Catbird - S Mexico to Honduras
Mimus polyglottos
- Northern Mockingbird - S Canada to S Mexico
Mimus gilvus
-
Tropical Mockingbird
- S Mexico to El Salvador, N, E South America
Mimus gundlachii
- Bahama Mockingbird - Bahamas, Jamaica
Mimus thenca
- Chilean Mockingbird - Chile
Mimus longicaudatus
- Long-tailed Mockingbird - Ecuador, Peru
Mimus saturninus
-
Chalk-browed Mockingbird
- Amazonia, SE South America
Mimus patagonicus
- Patagonian Mockingbird - Southern Cone
Mimus triurus
- White-banded Mockingbird - C, SE South America
Mimus dorsalis
- Brown-backed Mockingbird - Bolivia, NW Argentina
Mimus parvulus
- Galapagos Mockingbird - Galápagos Islands
Mimus trifasciatus
- Floreana Mockingbird - Galápagos Islands
Mimus macdonaldi
- Hood Mockingbird - Galápagos Islands
Mimus melanotis
- San Cristobal Mockingbird - Galápagos Islands
Mimus graysoni
- Socorro Mockingbird - Socorro Island
Oreoscoptes montanus
- Sage Thrasher - W, SW USA
Toxostoma rufum
- Brown Thrasher - C, E, SE North America
Toxostoma longirostre
- Long-billed Thrasher - S Texas, E Mexico
Toxostoma guttatum
- Cozumel Thrasher - Cozumel Island
Toxostoma cinereum
- Grey Thrasher - Baja California
Toxostoma bendirei
- Bendire's Thrasher - SW USA, NW Mexico
Toxostoma ocellatum
- Ocellated Thrasher - Mexico
Toxostoma curvirostre
- Curve-billed Thrasher - SW USA, Mexico
Toxostoma redivivum
- California Thrasher - California, North America, also Baja California
Toxostoma crissale
- Crissal Thrasher - SW USA, N, C Mexico
Toxostoma lecontei
- Le Conte's Thrasher - SW USA, NW Mexico
Ramphocinclus brachyurus
- White-breasted Thrasher - Lesser Antilles
Melanotis caerulescens
- Blue Mockingbird - Mexico
Melanotis hypoleucus
- Blue-and-white Mockingbird - S Mexico to El Salvador
Allenia fusca
- Scaly-breasted Thrasher - Lesser Antilles
Margarops fuscatus
- Pearly-eyed Thrasher - West Indies
Cinclocerthia ruficauda
- Brown Trembler - Lesser Antilles
Cinclocerthia gutturalis
- Grey Trembler - Lesser Antilles