04 September 2012 22:25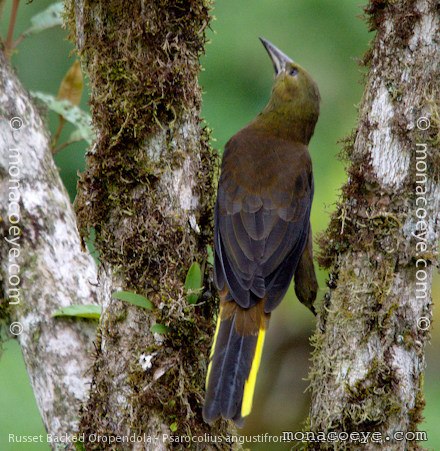 Copyright: monacoeye • San Isidro, Ecuador, March 2011 • All rights reserved

Bird name: Russet Backed Oropendola
Latin:
Psarocolius angustifrons
Other: Oropéndola dorsirrojiza (Es)

Family:
Icteridae
•
Oropendolas
Range: Andes, incl Ecuador, and Venezuelan coast

Similar:
The Russet-backed Oropendola is the only Oropendola in the Ecuadorian Andes, which makes identification easier there. There are several subspecies, the eastern race has a dark bill, generally, whereas other morphs (south and west) have light bills.
All birds pictured on this page, except the lowest, were taken at the same lodge, San Isidro, on the eastern slope, but even at this one location there appears to be variability in bill colour and plumage (see below). You can get very good views of this bird at San Isidro Lodge.
There were also large numbers Russet-backed Oropendolas seen returning to roost each evening in the Upper Napo region of eastern Ecuador (photo below), I think mixed with Crested Oropendolas; I certainly identified some of each species in the flocks containing many hundreds of birds.
The eastern Russet-backed Oropendola, pictured here, is a dark bird with an olive head, variable bill colour, olive - brownish body and long yellow undertail feathers.
Ecuador
Below, Russet-backed Oropendola at San Isidro Lodge, Ecuador, March 2011

More photos...