04 April 2013 16:36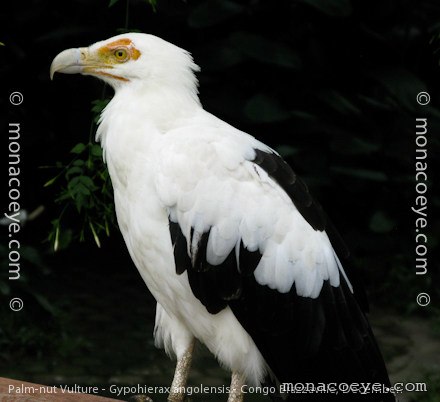 Copyright: AW/monacoeye • All rights reserved • Kinshasa


Bird name: Palm Nut Vulture
Latin:
Gypohierax angolensis
Other: Vulturine Fish Eagle. Palmiste africain (Fr)

Family:
Accipitridae
•
Old World Vultures
, Birds of Prey
Range: Sub-Saharan Africa

Similar: African Fish Eagle
The Palm-nut Vulture feeds mainly on the fruit of the oil-palm, supplemented with crabs, molluscs, locusts, and fish. It is found in sub-Saharan and nests in palm trees (photos below).
The Palm-nut Vulture is not shy, and can even be seen in hotel gardens, as above. Thanks to Alexia for the first photo from Kinshasa. Juveniles have yellow facial skin. Adult Palm-nut Vultures have red facial skin.
We saw them quite regularly in the Gambia.
Below, close-up of juvenile Palm-nut Vulture, Kinshasa.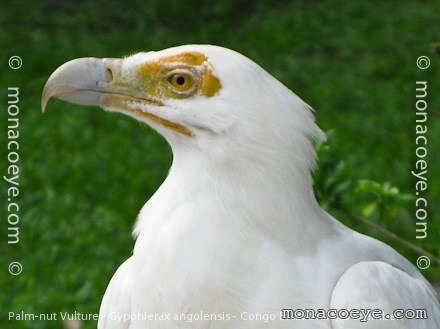 Below, Palm-nut Vulture in flight, Gambia, Feb 2013.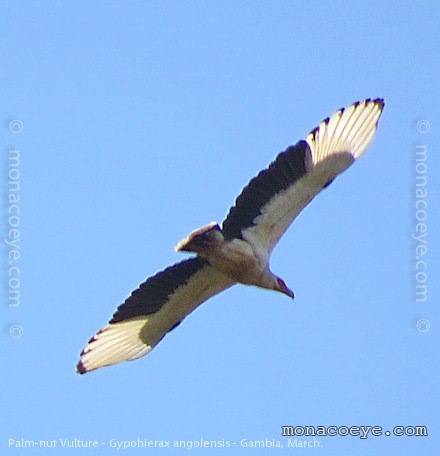 More photos...