20 March 2013 19:32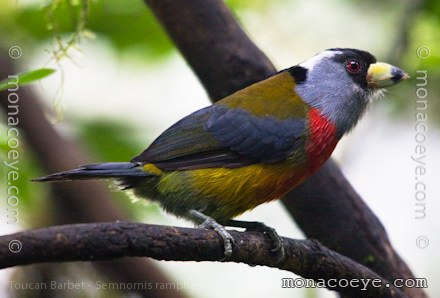 Copyright: monacoeye • Pas de las Aves, Ecuador, Feb 2011 • Do not copy

Bird name: Toucan Barbet
Latin:
Semnornis ramphastinus
Other: Barbudo Tucán (Es)

Family:
Semnornithidae
•
New World Barbets
Range: Western Colombia to western
Ecuador
Similar:
Red List: Near threatened
The colourful Toucan Barbet is an emblematic bird for the region around Santa Lucia, where duetting birds can be heard resounding across the mountainside. The original indiginous residents of the area share the same name as this Choco endemic in the local tongue. [
I don't recall the name - if anyone knows please leave in comments below.
] Many thanks to Heike for jogging my memory - the name is Yumbo.
Toucan Barbets have now been placed in their own family, Semnornithidae, by the IOC and SACC, alongside the Prong-billed Barbet of Costa Rica. Though for convenience they are tagged here with New World Barbets.
Although I saw Toucan Barbets on many occasions in Santa Lucia - they're good birds for guides to call in - the best views were at Paz de las Aves, where they visit the feeders.
The Toucan Barbet is classed as near-threatened on the IUCN Red List due to habitat loss.
More photos...