24 July 2011 10:04
Copyright: monacoeye • Do not copy without permission • Santa Lucia, Ecuador, March.

Bird name: Slate Throated Whitestart
Latin:
Myioborus miniatus
Other: Slate-throated Redstart • Candelita goliplomiza (Es) • Mariquita-cinza (Br)

Family:
Parulidae
•
New World Warblers
, Whitestarts
Range: Mexico, Nicaragua, El Salvador, Honduras, Guatemala, Belize, Costa Rica, Panama, Venezuela, Guianas, Colombia, Ecuador, Peru, Bolivia, Brazil, Argentina.

Similar: Parulas, Euphonias
One of the most widespread and frequently-seen passerines in Ecuador in March at mid-altitude - fast-moving but will perch nearby. Seen on the slope up to Santa Lucia, Mirador Rio Blanco, Paz de las Aves and Milpe, but the best views were at San Isidro (above). Often found in mixed flocks.
In Panama, I only saw them in the eastern Chiriqui province, where they are known by the old name of Slate-throated Redstart. They did not live close to huts like the Collared Whitestart, so were seen less frequently.
The Slate-throated Whitestart is yellow below, slate above, extending over head and throat (unlike the Parulas in Panama). Longish tail with white outer feathers distinguishes it from Euphonias. Small rufous crest is sometimes difficult to see. One fanned its tail frequently (photo below).
Directly above and below, Slate-throated Whitestarts, Chiriqui, Panama, May. © monacoeye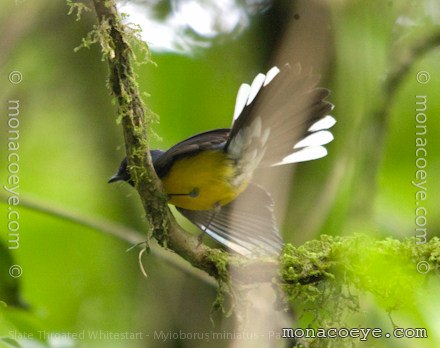 More photos...