16 March 2013 21:38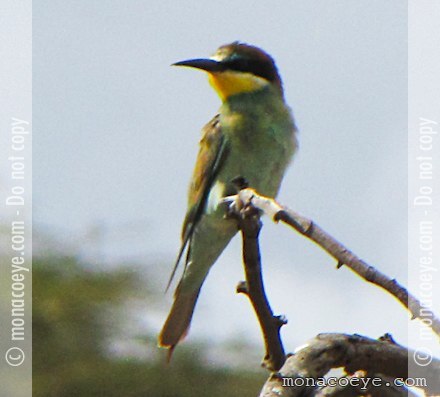 Copyright: AS - monacoeye • Ngorongoro • Oct 2009 • All rights reserved

Bird name: European Bee Eater
Latin:
Merops apiaster
Other: Guêpier d'Europe (Fr) • Gruccione (It) • Abejaruco europeo (Es)

Family:
Meropidae
•
Bee Eaters
Range:
Similar:
Around the 8th of September each year, hundreds of European Bee-eaters fly along the mountains behind Monaco (below in "more photos"), parallel to the coast, in their annual southwestern migration, down to Spain and then on to Africa.
They seem to come through in groups of twenty to fifty birds, at roughly half-hour intervals, with a one-day peak of several hundred individuals.
These small colourful birds have a fluttering flight, which appears quite haphazard, yet they manage to progress in a generally westward direction, parallel to the coast. They can be heard approaching by their flutey, whistling song, which sounds a little like singing electrical wires, which they make as they fly.
André, has just sent in the photo (above) of a European Bee-Eater in the Ngorongoro Crater in Tanzania, in October.
More photos...