06 February 2010 16:43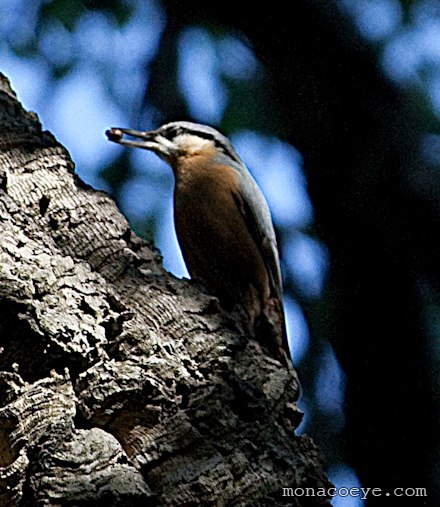 Photo copyright: monacoeye • Do not copy • Images: Cote d'Azur October 2009

Bird name: Eurasian Nuthatch
Latin:
Sitta europaea
Other: Sittelle torchepot (Fr) • Kleiber (De) • Trepador azul (Es)
Family: Sittidae • Nuthatches
Eurasian Nutchatches could be seen in Parc Vaugrenier in the autumn. They have long bills and can walk upside down on tree-trunks, unlike Treecreepers.
Reddish below, grey above, light face, black eyestripe.
More photos...
30 January 2008 11:26
201 Sittidae - Nuthatches
Sitta europaea
-
Eurasian Nuthatch
- Widespread Eurasia
Sitta arctica
- Siberian Nuthatch - NE Siberia
Sitta nagaensis
- Chestnut-vented Nuthatch - Tibet to SC Vietnam
Sitta cashmirensis
- Kashmir Nuthatch - SC Eurasia
Sitta castanea
- Indian Nuthatch - N, C, SW India
Sitta cinnamoventris
- Chestnut-bellied Nuthatch - N Pakistan to N Southeast Asia
Sitta neglecta
- Burmese Nuthatch - Burma to S Vietnam
Sitta himalayensis
- White-tailed Nuthatch - Himalayas to NW Vietnam
Sitta victoriae
- White-browed Nuthatch - W Burma
Sitta pygmaea
- Pygmy Nuthatch - SW Canada to W Mexico
Sitta pusilla
- Brown-headed Nuthatch - SE USA
Sitta whiteheadi
- Corsican Nuthatch - Corsica
Sitta ledanti
- Algerian Nuthatch - Algeria
Sitta krueperi
- Krüper's Nuthatch - E Greece through Turkey
Sitta yunnanensis
- Yunnan Nuthatch - SW China
Sitta canadensis
- Red-breasted Nuthatch - Widespread North America
Sitta villosa
- Chinese Nuthatch - E Eurasia
Sitta leucopsis
- White-cheeked Nuthatch - W Himalayas
Sitta przewalskii
- Przevalski's Nuthatch - SE Tibet, WC China
Sitta carolinensis
- White-breasted Nuthatch - Widespread North America, also N Mexico
Sitta neumayer
- Western Rock Nuthatch - SW Eurasia
Sitta tephronota
- Eastern Rock Nuthatch - SC Eurasia
Sitta frontalis
- Velvet-fronted Nuthatch - Widespread Asia
Sitta solangiae
- Yellow-billed Nuthatch - Vietnam, Laos
Sitta oenochlamys
- Sulphur-billed Nuthatch - Philippines
Sitta azurea
- Blue Nuthatch - Malaysia, Sumatra, Java
Sitta magna
- Giant Nuthatch - SC China to NW Thailand
Sitta formosa
- Beautiful Nuthatch - Himalayas to NW Vietnam