29 May 2010 09:47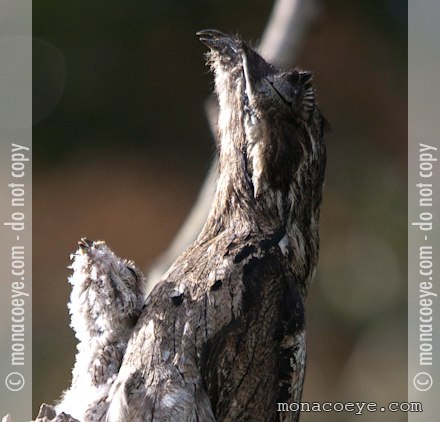 Photos copyright: TC/monacoeye • Do not copy • Valle de Anton • 3 May 2010

Bird name: Common Potoo
Latin:
Nyctibius griseus
Other: Grey Potoo, Lesser Potoo • Urutaú menor (Es) • Urutau-comum (Br)
Family: Nyctibiidae
Range: Costa Rica to Argentina
A chip off the old block - a Common Potoo and chick doing a very convincing impression of a piece of wood. The adult will have a laid a single egg, which has now hatched, in a depression in the top of this stump.
When Common Potoos hear a potential predator approach they adopt this freeze position, very slowly, which serves as even better camouflage than their usual pose.
Potoos are in the
Caprimulgiformes
order with the Nightjars and Frogmouths, but have their own family the
Nyctibiidae
with a single genus with seven species, which all live in tropical Central and South America. They hunt insects from a perch at night.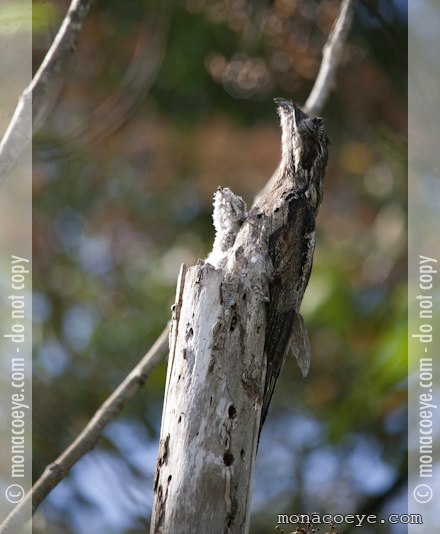 More photos...
29 May 2010 09:47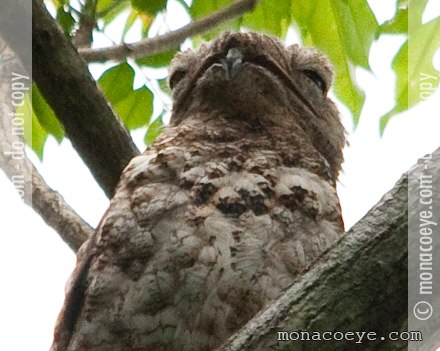 Photos copyright: monacoeye • Do not copy • Semaphore Hill • 26 April 2010

Bird name: Great Potoo
Latin:
Nyctibius grandis
Other: Urutau-grande (Br) Mãe-da-lua-gigante
Family: Nyctibiidae
Range: Guatemala to Brazil
This Great Potoo was seen in the Soberania National Park in central Panama, high on a limb near the main road. The species is found in most of tropical Central and South America from Guatemala to southeastern Brazil.
At 50-60 cm, the Great Potoo is the largest of the seven Potoos, and the largest bird in its order. It is nocturnal, preying on large flying insects and sometimes bats. It's very well camouflaged during the day and difficult to spot.
Slightly reminiscent of Lewis Caroll's Cheshire Cat.
More photos...
24 June 2008 19:27
081 Nyctibiidae - Potoos - IOC 2.5 - 2010
Nyctibius grandis
-
Great Potoo
- S Mexico through Amazonia, SE South America
Nyctibius aethereus
- Long-tailed Potoo - Amazonia, SE South America
Nyctibius jamaicensis
- Northern Potoo - Mexico to Nicaragua, Middle America, also Greater Antilles
Nyctibius griseus
-
Common Potoo
- Nicaragua to Uruguay
Nyctibius maculosus
- Andean Potoo - Venezuela to Bolivia
Nyctibius leucopterus
- White-winged Potoo - Amazonia
Nyctibius bracteatus
- Rufous Potoo - Amazonia