21 May 2011 19:39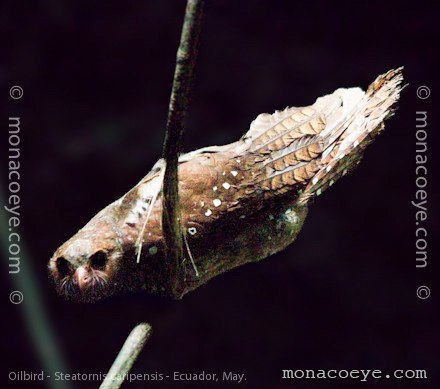 Copyright: monacoeye • Cueva de los Tayos, Ecuador, Feb 2011 • Do not copy

Bird name: Oilbird
Latin:
Steatornis caripensis
Other: Guácharo, tayo (Es) • Pássaro-do-petróleo, guácharo (Br)

Family: Steatornithidae • Oilbird
Range: Colombia,
Ecuador
, Peru, Bolivia, Trinidad, Venezuela, Guyana, etc
Similar:
The Oilbird, although related to the nightjar, differs sufficiently to be placed in its own family, the Steatornithidae.
Oilbirds are fascinating birds, living in caves and dark gorges, and usually only exiting to feed at night on the fruits of oil palms and laurels. They navigate with echolocation and make loud clicking noises.
These birds were perched around the steep sides of a pitch-black, narrow, high-walled gully that cut into the mountain, near the Cueva de los Tayos in the Andes, in northern Ecuador. I had to stand in the middle of a small stream with the water flowing over my boots to take these photos - without flash, in order not to disturb the birds. In addition, we didn't speak or move much, keeping a respectful distance behind a barrier, and only stayed a few minutes.
The day I visited in February, the main caves were inaccessible, as it had rained heavily, but this back-up location still had many oilbirds. Occasionally, one would move from one position on the wet rock walls to another, with great screeching and flapping of wings. But for the most part all the birds remained put, hardly moving, including one perched on a vine, pictured above, in a shaft of light.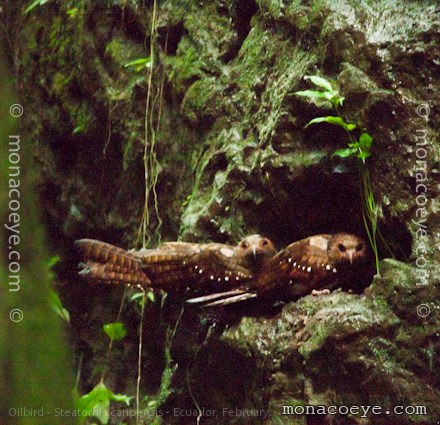 More photos...