12 April 2011 12:58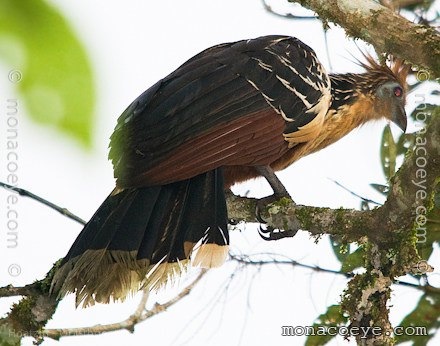 © monacoeye • Napo, Ecuador, Mar 2011 • Do not copy

Bird name: Hoatzin
Latin:
Opisthocomus hoazin
Other: Stinkbird; Hoacín, chenchena, serere, shansho (Es); Jacu-cigano, cigana (Br)

Family: Opisthocomidae • Hoatzin
Range: Amazonia: Colombia,
Ecuador
, Peru, Venezuela, Brazil, Guyanas

Similar:
The Hoatzin is a very unusual bird, whose taxonomic relationship to other birds remains unknown, although its DNA has been sequenced and is currently being studied. Its closest relatives have been thought to be variously seriemas, turacos or cuckoos, although conclusive proof is still lacking.
Amongst the hoatzin's unusual characteristics are a bad smell which deters predators, the ability for chicks to swim underwater and climb up into their nests with clawed wings, a diet of leaves and fruit, and a variety of odd noises including grunts and hisses.
The hoatzin pictured above was relatively easy to see and find on Anaconda Island, in the upper Napo, living in a group that never strayed far from the edge of the swamp.
Many thanks to Tom for the photo below of the Hoatzin in flight, taken near Sacha Lodge.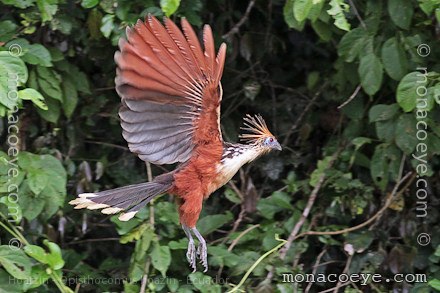 More photos...