05 October 2009 00:06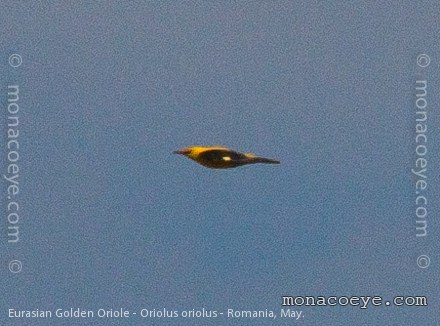 © GW - monacoeye • All rights reserved • Danube Delta, Romania • May 2009

Bird name: Eurasian Golden Oriole
Latin:
Oriolus oriolus
Other: Golden Oriole. Loriot d'Europe (Fr)

Family:
Oriolidae
•
Orioles
Range:

Similar:
The only Golden Oriole I've ever seen, as he flitted across a canal in the Danube Delta for about 3 seconds.
Not a brilliant shot, I grant you, but I was pretty chuffed with this observation on my first day, after the tour guide, who had been visiting this area weekly for four years, admitted that to her great frustration, despite peering through binoculars for hours on end, she had never seen a single Golden Oriole!
Unfortunately for her she was at the back of the boat reading a paper when this one flew by the front end. No amount of squinting at my camera's small LCD was going to convince her that this was indeed a Golden Oriole she had just missed either.
The proof is nevertheless there, for all to see, in glorious black and yellow!
The Golden Oriole is Europe's only oriole.