04 April 2013 16:50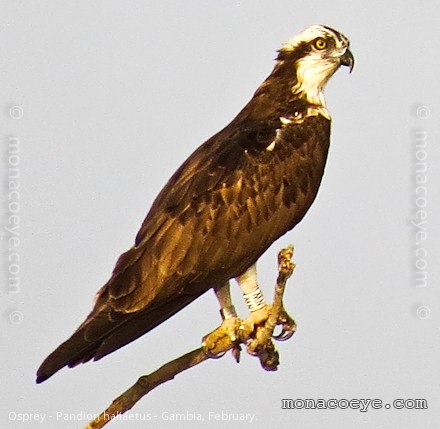 © GW - monacoeye.com, all rights reserved
.
Gambia, Feb 2013
Bird name: Osprey
Latin:
Pandion haliaetus
Other: Aguila pescadora, halieto (Es), Aguia-pesqueira (Pt), Balbuzard pêcheur (Fr), Falco pescatore (It), Fischadler (De)

Family: Pandionidae • Osprey
Range: Worldwide, especially tropics, coastlines and Canada, Russia, China.

Similar:
Ospreys have long thin wings and a distinctive zorro eye mask. They are white underneath with brown marks on wings, upperside is brown. Ospreys eat fish almost exclusively.
I saw a couple of Ospreys in the Valle de Anton area. One in the town itself and one higher in the mountains, both near water.
Seen again in Napo, Ecuador. Migrating on the Cote d'Azur, France in September.
I saw Ospreys frequently in the south of Gambia, March, and on the coastal area. They fly out to sea, catch a large fish, then fly back inland - several kilometres sometimes - to a perch where they eat their meal.
The bird pictured above was a ringed bird (tag NW), seen about an hour south of Janjanbureh on the River Gambia.
Below, Pied Crow harasses Osprey for fish, Tujereng Woods,
Gambia, March 2013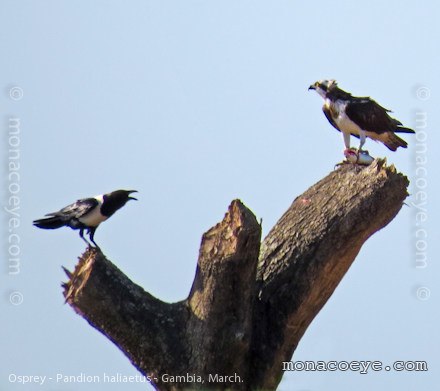 Below, Osprey takes a bath in a quarry,
Gambia, March 2013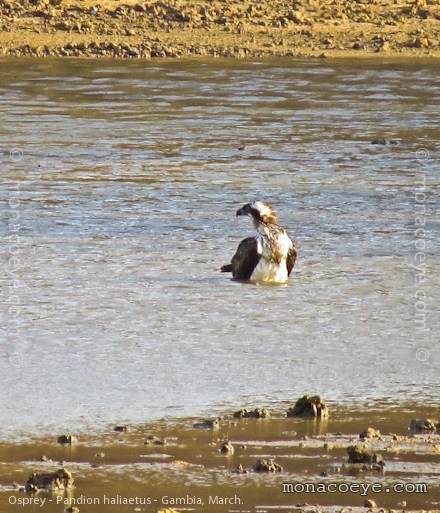 Below, Osprey in flight,
Panama, April

More photos...