15 May 2011 23:41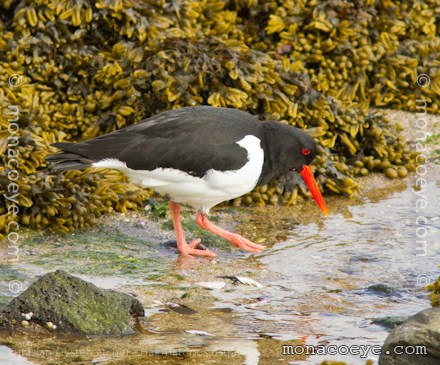 Copyright: AW/monacoeye • Do not copy • Iceland • May 2011

Bird name: Eurasian Oystercatcher
Latin:
Haematopus ostralegus
Other: Oystercatcher (UK) • Huitrier Pie (Fr) • Austernfischer (De) • Ostrero común euroasiático (Es) • Beccaccia di mare (It) • Scholekster (Nl) • Strandskata (Sv) • Ostraceiro-europeu (Pt)

Family: Haematopodidae • Oystercatchers
Range: Eurasian and African coasts, central Asia
Similar:
A nice shot of a Eurasian Oystercatcher on the Reykjanes Peninsular in Iceland from Alexia. In more photos one flying by the Black Sea, on the Romania and Ukraine border.
More photos...
13 December 2009 16:02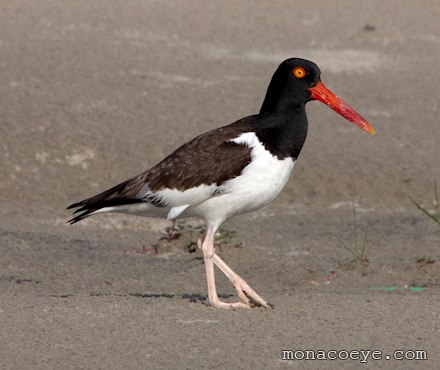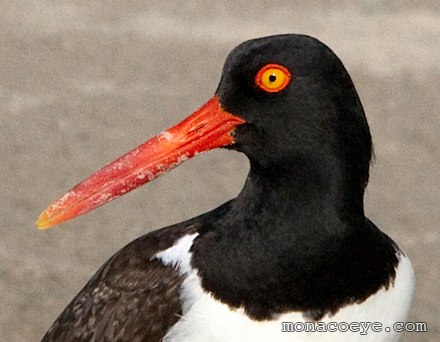 Photo copyright: monacoeye • Do not copy • Images: Mostardas, Brazil • November 2009

Bird name: American Oystercatcher
Latin:
Haematopus palliatus
Other: Piru-piru • American Pied Oystercatcher
Family: Hameatopodidae • Oystercatchers
The American Oystercatcher is easy to recognise by its
large orange bill and orange eye-ring
.
Seen here on the beach near the Lagoa do Peixe in Mostardas. The American Oystercatcher can also be found on the Atlantic and Gulf coasts of North America.
More photos...
26 July 2008 19:21
054 Haematopodidae - Oystercatchers - IOC 2.5 - 2010
Haematopus leucopodus
- Magellanic Oystercatcher - extreme S coasts
Haematopus ater
- Blackish Oystercatcher - S, W coasts
Haematopus bachmani
- Black Oystercatcher - W coast
Haematopus palliatus
-
American Oystercatcher
- Widespread North America, Latin America coasts
Haematopus moquini
- African Oystercatcher - S, SW coasts
Haematopus ostralegus
-
Eurasian Oystercatcher
- NW, C, E Eurasia - coastal Africa, Asia
Haematopus finschi
- South Island Oystercatcher - New Zealand coasts
Haematopus longirostris
- Pied Oystercatcher - coastal Australia, Moluccas
Haematopus unicolor
- Variable Oystercatcher - coastal New Zealand
Haematopus chathamensis
- Chatham Oystercatcher - Chatham Is - Split from
H. unicolorHaematopus fuliginosus
- Sooty Oystercatcher - coastal Australia