12 February 2011 09:27
Copyright: monacoeye • Do not copy without permission • Panama, April 2010

Bird name: Palm Tanager
Latin:
Thraupis palmarum
Other: Sanhaçu-do-coqueiro (Br) • Tangara (Es), Azulejo de palmeras
Family:
Thraupidae
•
Tanagers
Range: Guatemala to Paraguay & S Brazil
Similar: Olive-green, Sayaca Tanager (Brazil), Plain Tanager (Panama)
The Palm Tanager is one of the duller looking tanagers, in Brazil mostly uniform olive-green, with lighter patches on wing and darker tips, head lighter and greener, with only a black iris and bill which stand out.
In Panama, at least one pair roosted in the eves of the Canopy Tower. The Panama Palm Tanager (above) has brown wing tips and tail and is far less uniform and green than its Brazilian counterpart (lowest photo, next page). On close examination there was an almost purplish sheen to some of the back and chest of the birds in Panama.
In Brazil, the Olive-green tanager is yellower below, with distinct upper and lower halves, and fluffier. The Sayaca Tanager is obviously blue, not green, but from below in some lights, when both are pale can look similar - the same goes for Golden-chevroned Tanager, which can also look similar from below.
The Palm Tanager is fairly common throughout most of the northern half of South America and extending into Central America and the Caribbean. Found near houses as well as other areas.
Directly below, a Palm Tanager in Panama.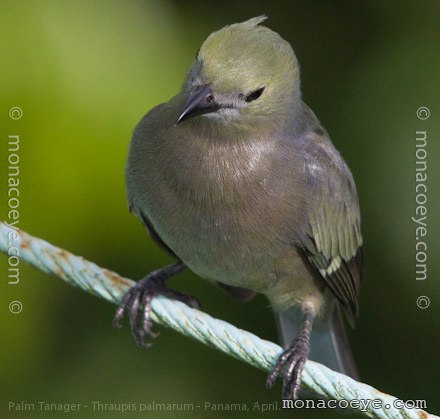 Below, a Palm Tanager in Ubatuba, Brazil, Nov 2009. Brazilian Palm Tanagers were a uniform greenish colour and lacked the brown wing of the Panama variety.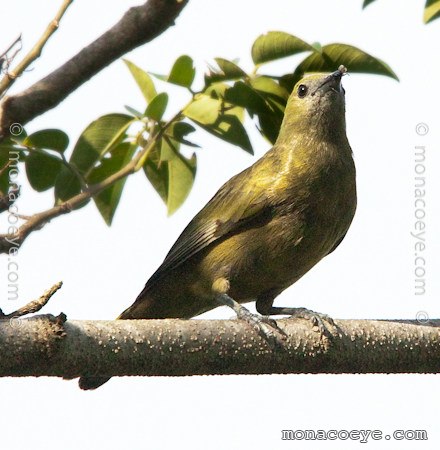 More photos...