26 January 2010 11:52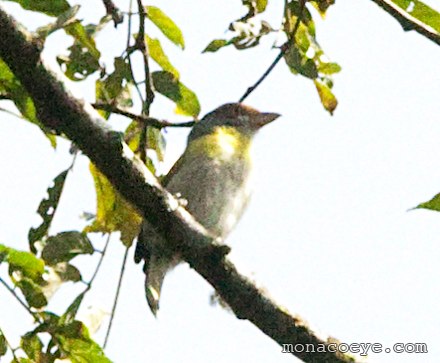 Photo copyright: monacoeye • Do not copy • Images: Itatiaia, RJ • November 2009

Bird name: Rufous Browed Peppershrike
Latin:
Cychlarhis gujanensis
Other: Pitiguari (Br)
Family: Vireonidae • Vireos
The Rufous-browed Peppershrike is supposedly a very common bird around Brazil, but this was the only individual I noticed on my recent trip. He was high in a tree so this is just a record shot. Its range extends from Mexico to Argentina.
The Rufous Browed Peppershrike is identified by its heavy bill, rufous brow, yellow chest, whitish buff belly. This southeastern
Cychlaris gujanensis ochrocephala
subspecies has a brown cap, other subspecies have a light grey cap. Upperside of wings, back and tail are green.
More photos...
20 March 2008 19:10
155 Vireonidae - Vireos, Greenlets - IOC 2.5 2010
includes
Erpornis
and
PteruthiusCyclarhis gujanensis
-
Rufous-browed Peppershrike
- Widespread Latin America
Cyclarhis nigrirostris
- Black-billed Peppershrike - Colombia, Ecuador
Vireolanius melitophrys
- Chestnut-sided Shrike-Vireo - C Mexico to Guatemala
Vireolanius pulchellus
-
Green Shrike-Vireo
- SE Mexico to Panama
Vireolanius eximius
- Yellow-browed Shrike-Vireo - Colombia, Venezuela, South America, also E Panama
Vireolanius leucotis
- Slaty-capped Shrike-Vireo - Amazonia
Vireo brevipennis
- Slaty Vireo - S Mexico
Vireo griseus
- White-eyed Vireo - E North America, Middle America
Vireo crassirostris
- Thick-billed Vireo - West Indies
Vireo pallens
- Mangrove Vireo - Widespread Middle America
Vireo approximans
- Providencia Vireo - Isla Providencia, Isla Santa Catalina
Vireo bairdi
- Cozumel Vireo - Cozumel
Vireo caribaeus
- San Andres Vireo - Isla Andrés
Vireo modestus
- Jamaican Vireo - Jamaica
Vireo gundlachii
- Cuban Vireo - Cuba
Vireo latimeri
- Puerto Rican Vireo - Puerto Rico
Vireo nanus
- Flat-billed Vireo - Hispaniola
Vireo bellii
- Bell's Vireo - SC, SW USA to Nicaragua
Vireo atricapilla
- Black-capped Vireo - SC USA, Mexico
Vireo nelsoni
- Dwarf Vireo - SW Mexico
Vireo vicinior
- Grey Vireo - SW USA, NW Mexico
Vireo osburni
- Blue Mountain Vireo - Jamaica
Vireo flavifrons
- Yellow-throated Vireo - E North America
Vireo plumbeus
- Plumbeous Vireo - W North America, Middle America
Vireo cassinii
- Cassin's Vireo - W North America
Vireo solitarius
- Blue-headed Vireo - E North America
Vireo carmioli
-
Yellow-winged Vireo
- Costa Rica, Panama
Vireo masteri
- Choco Vireo - Colombia
Vireo huttoni
- Hutton's Vireo - SW Canada to W Guatemala
Vireo hypochryseus
- Golden Vireo - W Mexico
Vireo gilvus
- Warbling Vireo - Widespread North America, Middle America
Vireo leucophrys
-
Brown-capped Vireo
- Mexico to N Bolivia
Vireo philadelphicus
- Philadelphia Vireo - N North America
Vireo olivaceus
-
Red-eyed Vireo
- Canada through Amazonia
Vireo gracilirostris
- Noronha Vireo - Ihla Fernando de Noronha
Vireo flavoviridis
-
Yellow-green Vireo
- Widespread Middle America, also S Texas
Vireo altiloquus
- Black-whiskered Vireo - SE USA, West Indies
Vireo magister
- Yucatan Vireo - C, Middle America, also Cayman Islands
Hylophilus poicilotis
-
Rufous-crowned Greenlet
- SC, SE South America
Hylophilus amaurocephalus
- Grey-eyed Greenlet - E Brazil
Hylophilus thoracicus
- Lemon-chested Greenlet - C, SE South America
Hylophilus semicinereus
- Grey-chested Greenlet - Amazonia
Hylophilus pectoralis
- Ashy-headed Greenlet - N, C Amazonia
Hylophilus sclateri
- Tepui Greenlet - Tepuis
Hylophilus brunneiceps
- Brown-headed Greenlet - W Amazonia, C Brazil
Hylophilus semibrunneus
- Rufous-naped Greenlet - NW Venezuela to E Ecuador
Hylophilus aurantiifrons
- Golden-fronted Greenlet - N, South America, also Panama
Hylophilus hypoxanthus
- Dusky-capped Greenlet - Amazonia
Hylophilus muscicapinus
- Buff-cheeked Greenlet - Amazonia
Hylophilus flavipes
- Scrub Greenlet - Costa Rica to N Venezuela
Hylophilus olivaceus
- Olivaceous Greenlet - Ecuador & Peru
Hylophilus ochraceiceps
- Tawny-crowned Greenlet - S Mexico through Amazonia
Hylophilus decurtatus
- Lesser Greenlet - E Mexico to NW Peru
Erpornis zantholeuca
- White-bellied Erpornis - Himalayas to Borneo
Pteruthius rufiventer
- Black-headed Shrike-Babbler - Himalayas to NW Vietnam
Pteruthius flaviscapis
- White-browed Shrike-Babbler - Widespread Asia
Pteruthius xanthochlorus
- Green Shrike-Babbler - Himalayas to NE Burma
Pteruthius melanotis
- Black-eared Shrike-Babbler - Himalayas to W Malaysia
Pteruthius aenobarbus
- Chestnut-fronted Shrike-Babbler - NE India to S Laos, Java