27 November 2011 11:12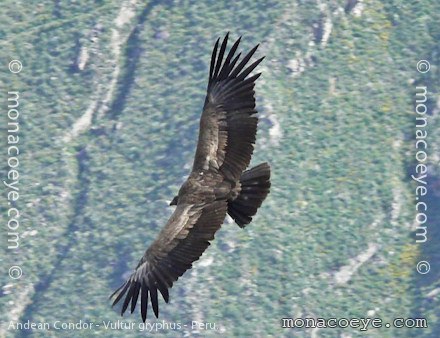 Copyright: DK/monacoeye • Do not copy without permission • Pantanal, August 2011.

Bird name: Andean Condor
Latin:
Vultur gryphus
Other: Condor-dos-andes (Br) • Cóndor andino, cóndor de los Andes, condornel (Es)

Family:
Cathartidae
•
New World Vultures
Range: Andes: (Venezuela, Colombia), Ecuador, Peru, Chile, Bolivia, Argentina, (also Brazil)
Similar: juvenile is dark like Black Vulture
Thanks to Dirk for these photos of the majestic Andean Condor in Peru. I saw no Condors in Ecuador at Papallacta, where they are occasionally seen. A rare bird now, classified as Near Threatened on the IUCN red list.
The adult Andean Condor has a characteristic white collar and white back of wing, unlike any other vulture. With three-metre wingspan, it is also much larger than even the Greater Yellow-headed Vulture (210cm). The juvenile, pictured above, is brown.
Below: adult Andean Condor in Peru.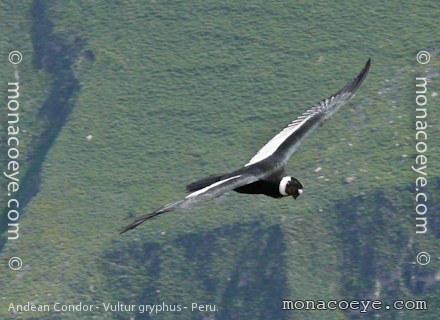 More photos...