13 October 2009 09:55
© monacoeye • Camargue, France • May 2009 • All rights reserved

Bird name: Greater Flamingo
Latin:
Phoenicopterus roseus
Other: Flamingo • Phoenicopterus ruber
Family: Phoenicopteridae • Flamingos
Surprisingly perhaps, the Greater Flamingo is native to France and can be seen quite easily in certain areas such as the Camargue. Flamingos are unmistakeable.
Juveniles have the brown and white colouring. Adults have reddish pink legs and yellow irises, reddish wings with a black border of primary feathers.
There are six flamingo species in the world, four in the Americas and two in the Old World. It's not clear if Greater Flamingos themselves are a separate species,
P. roseus
, or a subspecies of
P. ruber
.
The outstretched wings and necks form part of their courtship display. Flamingos are well known for sleeping on one leg, but never toppling over.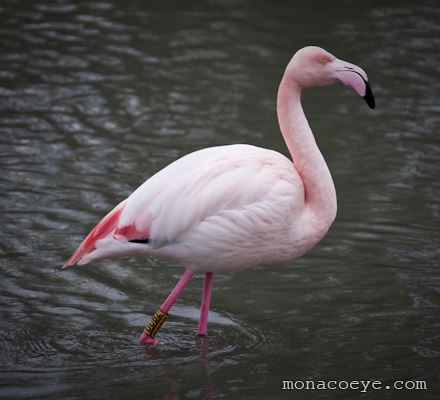 More photos...