27 March 2013 19:05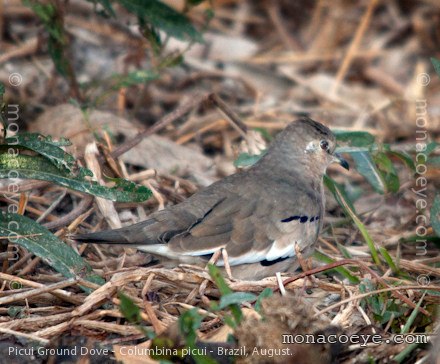 © monacoeye • All rights reserved: Pantanal, Aug 2011

Bird name: Picui Ground Dove
Latin:
Columbina picui
Other: Rolinha-picui (Br) • Torcacita (Es)
Family:
Columbidae
•
Pigeons
,
Doves
Range: W, S, NE Brazil, Argentina, Bolivia, Chile, Colombia, Paraguay, Peru, Uruguay.

Similar:
two parallel black lines on the closed wing. A broad white patch near the larger black line. Dark bill with darkish line running to eye. Light iris. No other Brazilian pigeon or dove has a similar configuration of two black lines on the closed wing. In flight, two broad white bands are visible on either side of its tail.
More photos...