29 March 2013 15:56
© GW - monacoeye • Gambia, Feb 2013.


Bird name: Black Headed Lapwing
Latin:
Vanellus tectus
Other: Black-headed Plover, Vanneau à tête noire (Fr), Schwarzschopfkiebitz (De), pavoncella testanera (It)

Family:
Charadriidae
•
Lapwings & Plovers
Range: Sub-Saharan Africa, Senegal, Gambia, to Ethiopia.

Similar: Spur-winged Lapwing
The Black-headed Lapwing was found on arid ground, a habitat it often feeds in. We saw them up river, including on MacCarthy Island.
The Black-headed Lapwing has bright pink legs, bill base and forehead. Long black crest, yellow iris.
© Black-headed Lapwing, near Janjanbureh, Gambia, Feb 2013.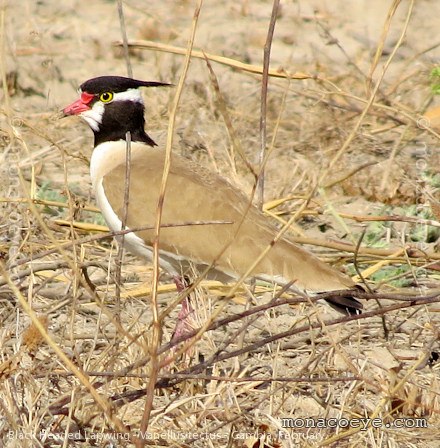 More photos...