23 March 2013 18:54
© monacoeye All rights reserved. Serra dos Tucanos, RJ • Sept 2011
Bird name: Turquoise Fronted Amazon
Latin:
Amazona aestiva
Other: Blue-fronted Parrot. Papagaio-verdadeiro (Br), Amazone à front bleu (Fr), Amazona sudamericana (Es)

Family:
Psittacidae
-
Parrots
,
Amazons
Range: C Brazil incl Pantanal, Bolivia, Paraguay, Argentina

Similar:
Orange-winged Amazon
I saw the Turquoise-fronted Amazon (Blue-fronted Parrot in van Perlo) several times in the Pantanal, especially at Curicaca Lodge. One had been domesticated there.
The Turquoise-fronted Amazon has yellow around the eye, and a turquoise forehead, while the Orange-winged Amazon has pale blue lores which extend around the eye.
© Below, Turquoise-fronted Amazon at Curicaca Lodge, Pantanal, Aug 2011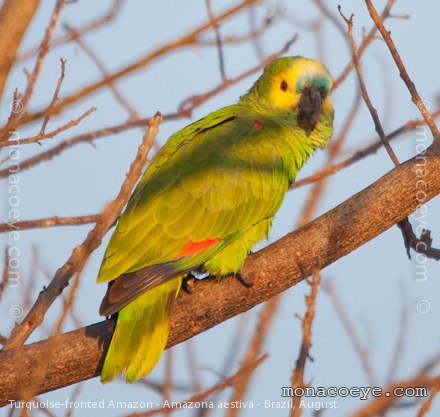 © Above below, Turquoise-fronted Amazons at Curicaca Lodge, Pantanal, Aug 2011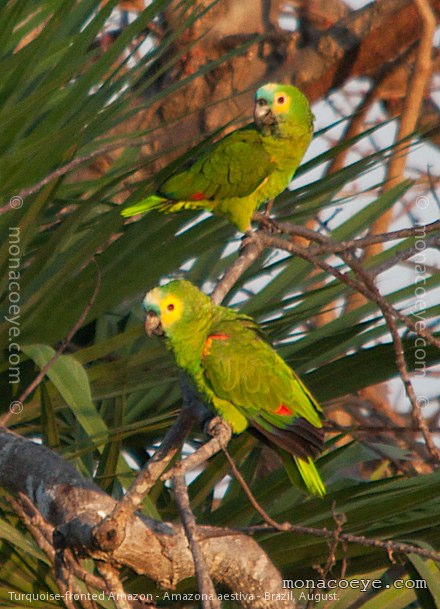 More photos...