09 February 2011 20:05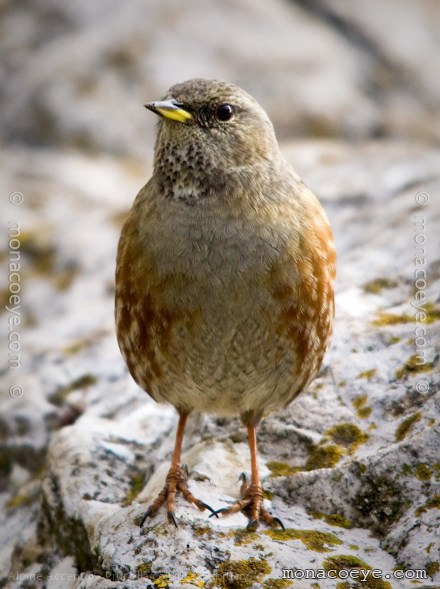 Copyright: monacoeye • Alpes Maritimes, France • Dec Jan Feb 2009 2010 2011

Bird name:
Alpine Accentor
Latin:
Prunella collaris
Other: Accenteur Alpin (Fr) • Alpenbraunelle (De) • Acentor alpino (Es) • Sordone (It) • Ferreirinha-alpina (Pt)

Family: Prunellidae • Accentors
Range: Eurasia, N Africa above 2000m - Alps, Pyrenees, Sierra Nevada, Carpathians, Atlas etc. Winters at lower elevations, including near Monaco.
Similar: House Sparrow
There seem to be many Alpine Accentors about this year in the Alpes Maritimes, not far from the coast in the mountains.
The Alpine Accentor has yellow on the lower bill, black and white stippled throat, rufous streaking to sides of belly, line of white triangles on black on closed wings and greyish streaked upperparts. Overall a beautiful combination of subtle colouring and shades.
Alpine Accentors come to feeders in the mountains and seem extremely tame when they appear, perhaps used to receiving crumbs. They tend to hop around on the rocks or make short flights around a small area. Near Monaco this year there is a group of about six of them in one spot.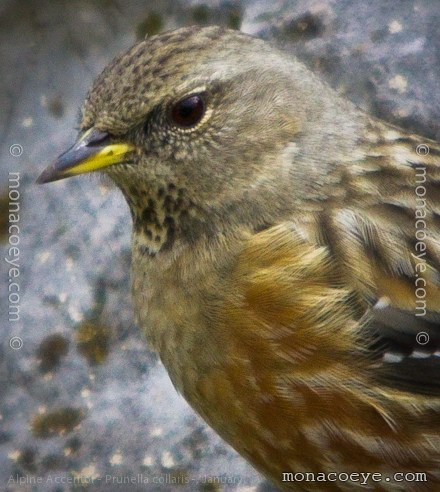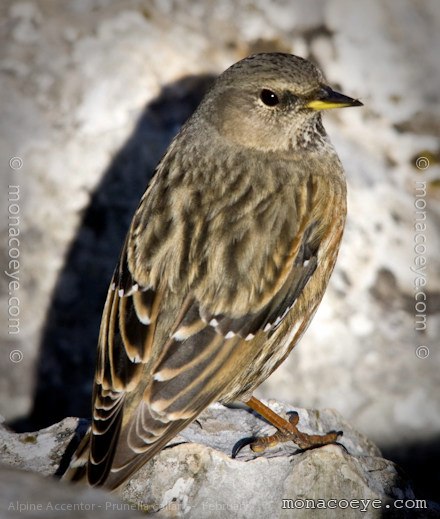 More photos...
22 March 2009 15:32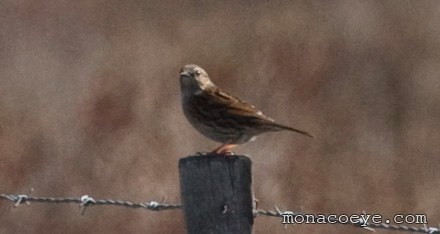 Photos copyright: monacoeye • Camargue, France • Mar 2009 • Do not copy without permission

Bird name: Dunnock
Latin:
Prunella modularis
Other: Accenteur Mouchet
Family: Prunellidae or Passeridae - Accentors
More photos...
13 January 2008 23:38
218 Prunellidae - Accentors - IOC 2.5 - 2010
Prunella collaris
-
Alpine Accentor
- SW, SC, E, Eurasia, also NW Africa
Prunella himalayana
- Altai Accentor - C Asia
Prunella rubeculoides
- Robin Accentor - Himalayas
Prunella strophiata
- Rufous-breasted Accentor - Himalayas
Prunella montanella
- Siberian Accentor - N, E Eurasia
Prunella fulvescens
- Brown Accentor - SC, E Eurasia
Prunella ocularis
- Radde's Accentor - SC Eurasia
Prunella fagani
- Arabian Accentor - SW Arabian Peninsula
Prunella atrogularis
- Black-throated Accentor - C, SW Eurasia
Prunella koslowi
- Kozlov's Accentor - C Eurasia
Prunella modularis
-
Dunnock
- W, SW, Eurasia, also NW Africa
Prunella rubida
- Japanese Accentor - Japan
Prunella immaculata
- Maroon-backed Accentor - Himalayas to N Burma & C China