27 December 2010 13:47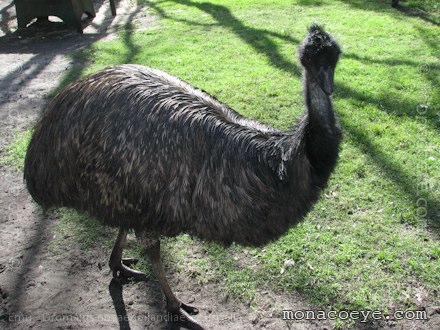 Copyright: TH/monacoeye • Perth, Australia • Do not copy without permission

Bird name: Emu
Latin:
Dromaius novaehollandiae
Other:
Family: Dromaiidae • Emu
Range: Australia
An Emu seen in parkland in Perth. Emus are the second largest bird still existing (after the
ostrich
).
Emus are ratites, flightless birds that diverged genetically from other birds in Gondwana, early in the history of birds, about 100 million years ago.
More photos...
22 March 2010 18:25
Photo copyright: AS/monacoeye • Do not copy • Images: Kenya • Oct 2009

Bird name:
Ostrich
Latin:
Struthio camelus
Other:
Family: Struthionidae • Ostrich
The Ostrich is the largest
ratite
, an ancient group of flightless birds originating in Gondwanaland. They have no keel on their sternum (ratis is Latin for raft), so would not be able to fly even with more developed wings.
Ostriches are native to many parts of tropical Africa, particularly east Africa. Males are generally black and white and females brown.
These ostriches were photographed in Amboseli and the Serengeti.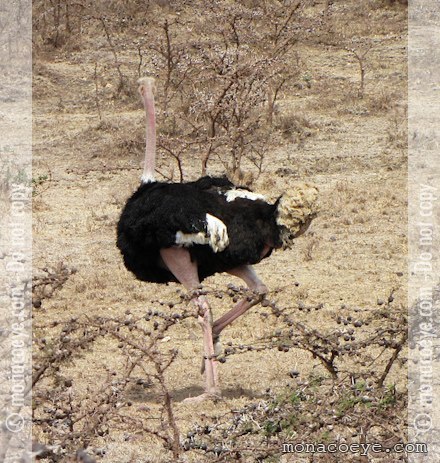 More photos...
13 December 2009 10:52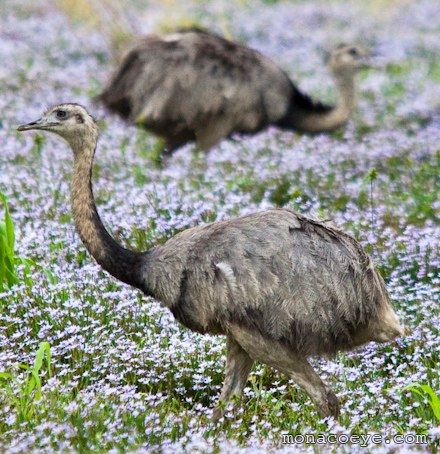 Photo copyright: monacoeye • Do not copy • Images: Mostardas, Brazil • November 2009

Bird name: Greater Rhea
Latin:
Rhea americana
Other: Ema (Br) • Nandu • Nandhu • Grey Rhea • Common Rhea • American Rhea • Nandou (Fr) • Nandú común • Avestruz americana
Family: Rheidae • Rheas • Ratites
The Greater Rhea is a Ratite, the family encompassing Ostriches, Emus, Cassowaries etc. Generally found in the southern half of Brazil and the northern half of Argentina, it is a
very large
, omnivorous, flightless bird,
about the size of a person
, which can be seen walking in fallow fields near Mostardas in Rio Grande do Sul.
There is only one other Rhea, the Lesser Rhea, also endemic to South America. The Greater Rhea is classed as Near Threatened by the IUCN.
More photos...