05 October 2012 18:31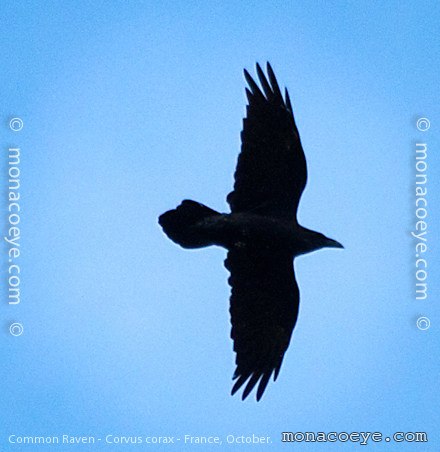 © monacoeye • France, October 2012 • All rights reserved

Bird name: Northern Raven
Latin:
Corvus corax
Other: Common Raven, Raven • Grand Corbeau (Fr) • Kolkrabe (De) • cuervo común, cacalote (Es) • Corvo imperiale (It) • Raaf (Nl) • Korp (Nl) • Corvo-comum (Pt)

Family:
Corvidae
•
Crows
, Ravens
Range: Widespread North America, Middle America, Eurasia,
Iceland
Similar: Carrion Crow
The Northern Raven is a large bird - the size of a medium to large bird of prey. In flight, the pointed tail and long pointed wings distinguish it from the Carrion Crow, which has a square-cut tail and squarer wings. The Raven has a very heavy bill.
There are no crows on Iceland - the bird pictured below must be a Raven. Possibly
Corvus corax varius,
the Icelandic subspecies, which has whitish feathers on the neck.
Below, Northern Raven in Iceland, May 2011.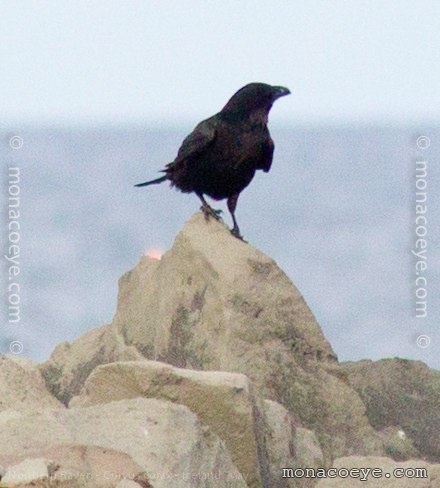 More photos...
15 March 2008 19:10
160
Corvidae
-
Crows
,
Jays
,
Magpies
,
Choughs
,
Ravens
- IOC 2.5 2010
Platylophus galericulatus
- Crested Jay - Malay Peninsula, Sumatra, Java, Borneo
Platysmurus leucopterus
- Black Magpie - Malay Peninsula, Sumatra, Borneo
Perisoreus infaustus
- Siberian Jay - N Eurasia
Perisoreus internigrans
- Sichuan Jay - WC China
Perisoreus canadensis
- Grey Jay - N North America
Cyanolyca armillata
- Black-collared Jay - Venezuela to Ecuador
Cyanolyca viridicyanus
- White-collared Jay - Peru, Bolivia
Cyanolyca turcosa
-
Turquoise Jay
- S Colombia, N Peru
Cyanolyca pulchra
- Beautiful Jay - Colombia, Ecuador, N Peru
Cyanolyca cucullata
- Azure-hooded Jay - Widespread Middle America
Cyanolyca pumilo
- Black-throated Jay - S Mexico to NW Honduras
Cyanolyca nana
- Dwarf Jay - SW Mexico
Cyanolyca mirabilis
- White-throated Jay - SW Mexico
Cyanolyca argentigula
- Silvery-throated Jay - Costa Rica, Panama
Cyanocorax melanocyaneus
- Bushy-crested Jay - Guatemala to Nicaragua
Cyanocorax sanblasianus
- San Blas Jay - W Mexico
Cyanocorax yucatanicus
- Yucatan Jay - Yucatan Peninsula
Cyanocorax beecheii
- Purplish-backed Jay - NW Mexico
Cyanocorax violaceus
-
Violaceous Jay
- W Amazonia
Cyanocorax caeruleus
- Azure Jay - SE South America
Cyanocorax cyanomelas
-
Purplish Jay
- SC South America
Cyanocorax cristatellus
-
Curl-crested Jay
- SE South America
Cyanocorax dickeyi
- Tufted Jay - W Mexico
Cyanocorax affinis
- Black-chested Jay - Costa Rica to NW Venezuela
Cyanocorax mystacalis
- White-tailed Jay - SW Ecuador, NW Peru
Cyanocorax cayanus
- Cayenne Jay - N Amazonia
Cyanocorax heilprini
- Azure-naped Jay - NW Amazonia
Cyanocorax chrysops
-
Plush-crested Jay
- SC, E South America
Cyanocorax cyanopogon
- White-naped Jay - E Brazil
Cyanocorax luxuosus
- Green Jay - S Texas to Honduras
Cyanocorax yncas
-
Inca Jay
- Venezuela to Bolivia
Psilorhinus morio
- Brown Jay - Widespread Middle America, also S Texas
Calocitta colliei
- Black-throated Magpie-Jay - W Mexico
Calocitta formosa
- White-throated Magpie-Jay - S Mexico to Costa Rica
Cyanocitta cristata
- Blue Jay - C, E North America
Cyanocitta stelleri
- Steller's Jay - W North America, Middle America
Aphelocoma ultramarina
- Mexican Jay - SW USA to S Mexico
Aphelocoma unicolor
- Unicolored Jay - C Mexico to W Honduras
Aphelocoma californica
- California Scrub Jay - Washington state to Baja California
Aphelocoma woodhouseii
- Woodhouse's Scrub Jay - NW USA (Oregon, Idaho) south to Guerrero and C,E Oaxaca
Aphelocoma insularis
- Island Scrub Jay - Santa Cruz Island
Aphelocoma coerulescens
- Florida Scrub Jay - Florida
Gymnorhinus cyanocephalus
- Pinyon Jay - W North America
Garrulus glandarius
-
Eurasian Jay
- Widespread Eurasia, Asia, also NW Africa
Garrulus lanceolatus
- Black-headed Jay - C, SC Eurasia
Garrulus lidthi
- Lidth's Jay - Ryukyu Islands
Cyanopica cyanus
- Azure-winged Magpie - E, C Asia
Cyanopica cooki
- Iberian Magpie - Iberian Peninsula
Urocissa ornata
- Sri Lanka Blue Magpie - Sri Lanka
Urocissa caerulea
- Taiwan Blue Magpie - Taiwan
Urocissa flavirostris
- Yellow-billed Blue Magpie - Himalayas
Urocissa erythrorhyncha
- Red-billed Blue Magpie - Himalayas, Southeast Asia
Urocissa whiteheadi
- White-winged Magpie - Southeast Asia
Cissa chinensis
- Common Green Magpie - Widespread Asia
Cissa hypoleuca
- Indochinese Green Magpie - Southeast Asia
Cissa thalassina
- Short-tailed Green Magpie - Java, Borneo
Dendrocitta vagabunda
- Rufous Treepie - Widespread Asia
Dendrocitta occipitalis
- Sumatran Treepie - Sumatra
Dendrocitta cinerascens
- Bornean Treepie - Borneo
Dendrocitta formosae
- Grey Treepie - Widespread Asia
Dendrocitta leucogastra
- White-bellied Treepie - SW India
Dendrocitta frontalis
- Collared Treepie - N India to NW Vietnam
Dendrocitta bayleyi
- Andaman Treepie - Andaman Islands
Crypsirina temia
- Racket-tailed Treepie - Burma to Java
Crypsirina cucullata
- Hooded Treepie - Burma
Temnurus temnurus
- Ratchet-tailed Treepie - Southeast Asia
Pica pica
-
Eurasian Magpie
- Widespread Eurasia, also NW Africa
Pica hudsonia
- Black-billed Magpie - W North America
Pica nuttalli
- Yellow-billed Magpie - California
Zavattariornis stresemanni
- Stresemann's Bush Crow - Ethiopia
Podoces hendersoni
- Henderson's Ground Jay - C Asia
Podoces biddulphi
- Biddulph's Ground Jay - NW China
Podoces panderi
- Pander's Ground Jay - SC Asia
Podoces pleskei
- Pleske's Ground Jay - Iran
Nucifraga columbiana
- Clark's Nutcracker - W North America
Nucifraga caryocatactes
-
Spotted Nutcracker
- Widespread Eurasia
Nucifraga multipunctata
- Large-spotted Nutcracker - W Himalayas
Pyrrhocorax pyrrhocorax
-
Red-billed Chough
- Widespread Eurasia, also NW, NE Africa
Pyrrhocorax graculus
-
Alpine Chough
- S, SC, Eurasia, also N Africa
Ptilostomus afer
-
Piapiac
- E, C, W Africa
Coloeus monedula
-
Western Jackdaw
- C, W, SW, Eurasia, also N Africa
Coloeus dauuricus
- Daurian Jackdaw - E, EC Eurasia
Corvus splendens
-
House Crow
- NW India through SW Thailand
Corvus moneduloides
- New Caledonian Crow - New Caledonia, Loyalty Islands
Corvus unicolor
- Banggai Crow - E Sulawesi
Corvus enca
- Slender-billed Crow - Malaysia to Borneo, Philippines, Asia, also Sulawesi
Corvus violaceus
- Violet Crow - Seram
Corvus typicus
- Piping Crow - Sulawesi
Corvus florensis
- Flores Crow - Lesser Sundas
Corvus kubaryi
- Mariana Crow - Mariana Islands
Corvus validus
- Long-billed Crow - N, C Moluccas
Corvus woodfordi
- White-billed Crow - Solomon Islands
Corvus meeki
- Bougainville Crow - Solomon Islands
Corvus fuscicapillus
- Brown-headed Crow - New Guinea
Corvus tristis
- Grey Crow - New Guinea
Corvus capensis
- Cape Crow - NE, E, S Africa
Corvus frugilegus
- Rook - Widespread Eurasia
Corvus brachyrhynchos
- American Crow - Widespread North America
Corvus caurinus
- Northwestern Crow - NW North America
Corvus imparatus
- Tamaulipas Crow - NE Mexico and S Texas
Corvus sinaloae
- Sinaloa Crow - NW Mexico
Corvus ossifragus
- Fish Crow - E, SE USA
Corvus palmarum
- Hispaniolan Palm Crow - Hispaniola
Corvus minutus
- Cuban Palm Crow - Cuba
Corvus jamaicensis
- Jamaican Crow - Jamaica
Corvus nasicus
- Cuban Crow - Cuba, Caicos Islands
Corvus leucognaphalus
- White-necked Crow - Hispaniola, Puerto Rico
Corvus hawaiiensis
- Hawaiian Crow - Hawaiian Islands
Corvus corone
-
Carrion Crow
- N, SW, E Eurasia
Corvus cornix
-
Hooded Crow
- C, S Eurasia
Corvus torquatus
- Collared Crow - E, C China, N Vietnam
Corvus macrorhynchos
- Large-billed Crow - E Eurasia Eurasia, Asia, also C, S Malay Peninsula, Sundas, Philippines
Corvus levaillantii
- Eastern Jungle Crow - N India to N Malay Peninsula
Corvus culminatus
- Indian Jungle Crow - Peninsular India, Sri Lanka
Corvus orru
- Torresian Crow - Widespread Australasia
Corvus insularis
- Bismarck Crow - Bismarck Archipelago
Corvus bennetti
- Little Crow - W, C Australia
Corvus tasmanicus
- Forest Raven - SE Australia
Corvus mellori
- Little Raven - SE Australia
Corvus coronoides
- Australian Raven - Australia
Corvus albus
-
Pied Crow
- Widespread Africa
Corvus ruficollis
- Brown-necked Raven - S Eurasia
Corvus edithae
- Somali Crow - N Africa
Corvus corax
-
Northern Raven
- Widespread North America, Middle America, Eurasia
Corvus cryptoleucus
- Chihuahuan Raven - SW USA to N Mexico
Corvus rhipidurus
- Fan-tailed Raven - E, C, W Africa, SW Europe
Corvus albicollis
- White-necked Raven - E, S Africa
Corvus crassirostris
- Thick-billed Raven - NE Africa