31 May 2009 12:20
Photos copyright: monacoeye • Danube Delta, Romania • May 2009 • Do not copy without permission

Bird name: Sedge Warbler
Latin:
Acrocephalus schoenobaenus
Other: Phragmite des joncs (fr)
Family: Acrocephalidae • Reed Warblers
These Sedge Warblers were living in the reeds on Caraorman Island, a large sand bank, in the Danube Delta. From time to time they would jump up from the reeds fly around a bit and head back down.
More photos...
07 May 2009 17:58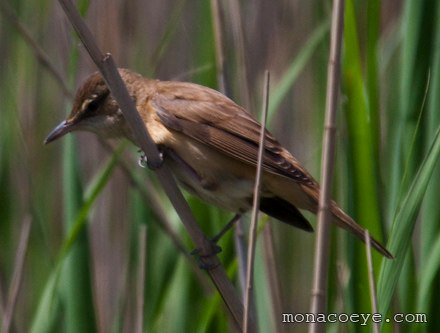 Photos copyright: monacoeye • Etang de Villepey St Aygulf • May 2009 • Do not copy without permission

Bird name: Great Reed Warbler
Latin:
Acrocephalus arundinaceus
Other: Rousserolle turdoïde (des rivières)
Family: Acrocephalidae • Reed Warblers
Pleased to observe this Great Reed Warbler in Hyeres at the weekend. It alerted us to its presence by its loud song and soon appeared to collect bedding material for its nest in the reeds from the salt lake. Later it flew to a high point and started singing loudly. Quite a large bird, about the size of a starling.
More photos...
18 February 2008 23:12
185 Acrocephalidae - Reed warblers and allies - IOC 2.5 - 2010
Nesillas typica
- Malagasy Brush Warbler - Madagascar region
Nesillas lantzii
- Subdesert Brush Warbler - Madagascar
Nesillas longicaudata
- Anjouan Brush Warbler - Comoros
Nesillas brevicaudata
- Grand Comoro Brush Warbler - Comoros
Nesillas mariae
- Moheli Brush Warbler - Comoros
Nesillas aldabrana
- Aldabra Brush Warbler - Aldabra Island
Acrocephalus griseldis
- Basra Reed Warbler - S Iraq - E Africa
Acrocephalus brevipennis
- Cape Verde Warbler - Cape Verde Is
Acrocephalus rufescens
- Greater Swamp Warbler - W, C Africa
Acrocephalus gracilirostris
- Lesser Swamp Warbler - E, S Africa
Acrocephalus newtoni
- Madagascar Swamp Warbler - Madagascar
Acrocephalus sechellensis
- Seychelles Warbler - Seychelles Islands
Acrocephalus rodericanus
- Rodrigues Warbler - Rodrigues Island
Acrocephalus arundinaceus
-
Great Reed Warbler
- W, C Eurasia - Africa
Acrocephalus orientalis
- Oriental Reed Warbler - E Eurasia - Southeast Asia, Australasia
Acrocephalus stentoreus
- Clamorous Reed Warbler - Widespread Eurasia, Asia, also New Guinea
Acrocephalus australis
- Australian Reed Warbler - Australia
Acrocephalus familiaris
- Millerbird - Hawaiian Islands
Acrocephalus luscinius
- Nightingale Reed Warbler - Mariana Islands
Acrocephalus rehsei
- Nauru Reed Warbler - Nauru Island
Acrocephalus syrinx
- Carolinian Reed Warbler - Caroline Islands
Acrocephalus aequinoctialis
- Bokikokiko - Kiritimati Island, Line Islands
Acrocephalus percernis
- Northern Marquesan Reed Warbler - N Marquesas Islands - Split from
A. mendanaeAcrocephalus caffer
- Tahiti Reed Warbler - Society Islands
Acrocephalus mendanae
- Southern Marquesan Reed Warbler - S Marquesas Islands - New name
Acrocephalus atyphus
- Tuamotu Reed Warbler - Tuamoto Archipelago
Acrocephalus kerearako
- Cook Reed Warbler - Cook Islands
Acrocephalus rimitarae
- Rimatara Reed Warbler - Austral Islands
Acrocephalus taiti
- Henderson Reed Warbler - Henderson Island
Acrocephalus vaughani
- Pitcairn Reed Warbler - Pitcairn Ialand
Acrocephalus bistrigiceps
- Black-browed Reed Warbler - E Eurasia - Southeast Asia
Acrocephalus melanopogon
- Moustached Warbler - S Eurasia
Acrocephalus paludicola
- Aquatic Warbler - C, E Europe - W, C Africa
Acrocephalus schoenobaenus
-
Sedge Warbler
- C, W Eurasia - subsaharan Africa
Acrocephalus sorghophilus
- Speckled Reed Warbler - NE China - SE China, Philippines
Acrocephalus concinens
- Blunt-winged Warbler - SC, E Eurasia - Southeast Asiared
Acrocephalus tangorum
- Manchurian Reed Warbler - NE China, SE Russia - Southeast Asia
Acrocephalus orinus
- Large-billed Reed Warbler - NE Afghanistan Eurasia, Asia - N India, SC Thailand
Acrocephalus agricola
- Paddyfield Warbler - C Eurasia - S Asia to Burma
Acrocephalus dumetorum
- Blyth's Reed Warbler - C Eurasia
Acrocephalus scirpaceus
- Eurasian Reed Warbler - W Eurasia - C Africa
Acrocephalus baeticatus
- African Reed Warbler - Widespread Africa
Acrocephalus palustris
- Marsh Warbler - W Eurasia - E, SE Africa
Iduna aedon
- Thick-billed Warbler - NC, NE Eurasia - Southeast Asia - Now
InundaIduna natalensis
- Dark-capped Yellow Warbler - Widespread Africa - Now
InundaIduna similis
- Mountain Yellow Warbler - E Africa - Now
InundaIduna caligata
- Booted Warbler - WC Eurasia - India - Now
InundaIduna rama
- Sykes's Warbler - SC Eurasia - S Asia - Now
InundaIduna pallida
- Eastern Olivaceous Warbler - SC Eurasia - E, NE Africa - Now
InundaIduna opaca
- Western Olivaceous Warbler - SW Europe, Eurasia, also NW Africa - W Africa - Now
InundaCalamonastides gracilirostris
- Papyrus Yellow Warbler - E Africa - Separated to
CalamonastidesHippolais languida
- Upcher's Warbler - SC Eurasia - NE Africa
Hippolais olivetorum
- Olive-tree Warbler - SC Eurasia - E, SE, Africa
Hippolais polyglotta
- Melodious Warbler - SW Europe, Eurasia, also NW Africa - W Africa
Hippolais icterina
- Icterine Warbler - W Eurasia - S Africa