13 December 2009 10:52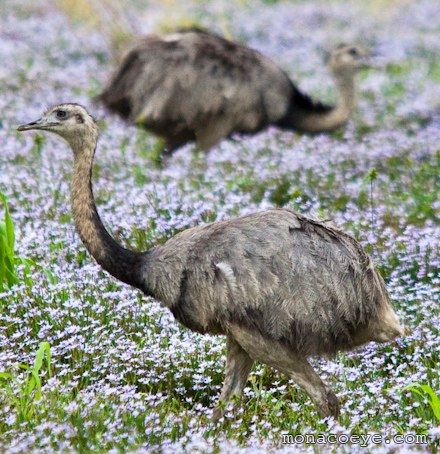 Photo copyright: monacoeye • Do not copy • Images: Mostardas, Brazil • November 2009

Bird name: Greater Rhea
Latin:
Rhea americana
Other: Ema (Br) • Nandu • Nandhu • Grey Rhea • Common Rhea • American Rhea • Nandou (Fr) • Nandú común • Avestruz americana
Family: Rheidae • Rheas • Ratites
The Greater Rhea is a Ratite, the family encompassing Ostriches, Emus, Cassowaries etc. Generally found in the southern half of Brazil and the northern half of Argentina, it is a
very large
, omnivorous, flightless bird,
about the size of a person
, which can be seen walking in fallow fields near Mostardas in Rio Grande do Sul.
There is only one other Rhea, the Lesser Rhea, also endemic to South America. The Greater Rhea is classed as Near Threatened by the IUCN.
More photos...
28 September 2008 19:09
003 Rheidae - Rheas - IOC 2.5 - 2010
Rhea americana
-
Greater Rhea
- SE South America
Rhea pennata
- Lesser Rhea - Southern Cone - was
Pterocnemia