27 November 2011 12:27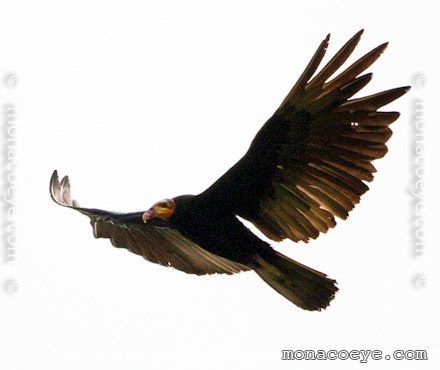 Copyright: monacoeye • Do not copy without permission • Para, Brazil, September 2011.

Bird name: Greater Yellow Headed Vulture
Latin:
Cathartes melambrotus
Other: Urubu-da-mata, urubu-maior-de-cabeça-amarela (Br) • Aura común (Es)

Family:
Cathartidae
•
New World Vultures
Range: Northern South America, incl northern Brazil, Amazonia etc. Low altitude tropical forest.
Similar:
Lesser Yellow Headed Vulture
,
Turkey Vulture
,
Comparison
Although in field guides The Greater Yellow Headed Vulture looks similar to the Lesser Yellow Headed Vulture and the Turkey Vulture, I found them quite easy to distinguish in practice.
Firstly there is not much overlap between Greater and Lesser Yellow Headed Vultures. Lesser is in the Pantanal, Greater in Amazonia, but with some Lessers near the Amazon itself.
Secondly, Greater Yellow Headed Vultures are very large birds, with very deep wings and long tails.
Thirdly, their wings are mostly dark underneath, with light patches nearest the body blending into the other darker feathers. Both the Turkey Vulture and the Lesser Yellow Headed Vulture have more delineated and lighter undersides.
The Greater Yellow Headed Vulture has a coloured head, with yellow, pink and blue parts, unlike the Turkey Vulture which is all pink-red with some white.
I saw Greater Yellow Headed Vultures flying over the Rio Azul Lodge in Para, usually around midday.
Below, Greater Yellow-headed Vulture. Photo lightened slightly to show wing pattern.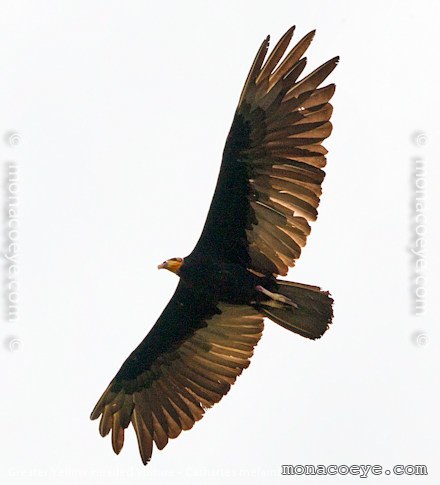 More photos...