05 November 2011 10:47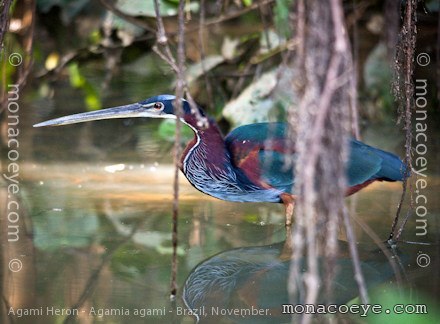 Copyright: monacoeye • Pantanal, Aug 2011 • Do not copy without permission

Bird name: Agami Heron
Latin:
Agamia agami
Other: Garça-da-mata (Br) • Garza agamí (Es) • Chestnut-bellied Heron

Family:
Ardeidae
•
Herons
Range: Central America to Brazil
Similar: none
The Agami Heron is usually very difficult to see as it hides in the darkness of overhanging vegetation by the river's edge, or in forest swamps, but what a stunner!
It is a medium sized heron with a very long pointed bill and beautiful dark red and green colouring to its feathers, with white markings down the neck. The juvenile, pictured further below, is much duller.
I saw Agami Herons with my in-house guide, Dodo, from Rio Clarinho Lodge (basic accommodation but recommended for this bird), who punted me down the Rio Claro river. We saw three different Agamis over about two hours, including one juvenile.
To notice them you really need to have eyesight than can pierce the darkness - or a very good guide. These photos were taken without flash at very slow speeds.
The birds moved very slowly, generally with neck retracted, and though initally very shy, after a while continued with their normal stalking behaviour, moving gracefully through the network of roots that reach down into the water from overhanging bushes and trees.
Below: An adult Agami Heron on the Rio Claro, Pantanal, Brazil, Aug, Sep 2011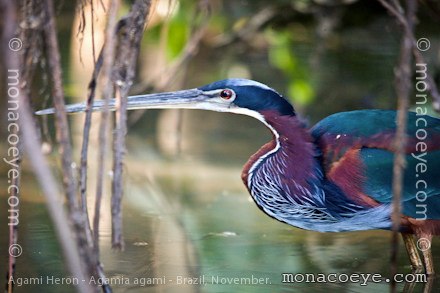 More photos...