12 April 2013 09:46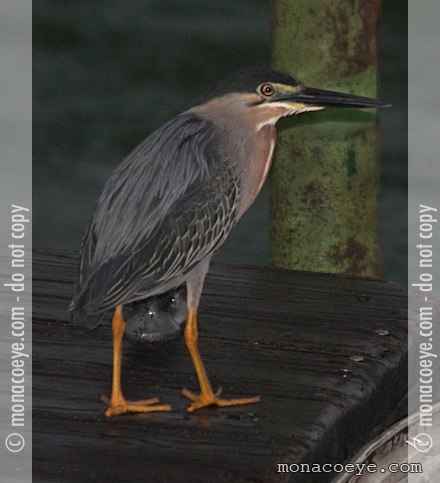 © GW - monacoeye • Gamboa, Panama • 25 April 2010 • All rights reserved.

Bird name: Striated Heron
Latin:
Butorides striata
Other: Green-backed Heron (Helm). Mangrove Heron, Little Heron. Garcita azulada (Es), Socozinho (Br), Héron strié (Fr)

Family:
Ardeidae
•
Herons
Range: Tropics worldwide

Similar: Green Heron
The adult Striated Heron has a black cap and a pinkish grey throat, with white stripes. It has light markings on its sides which are diagnostic - each dark feather tip has a light surround - and yellow irises. The Striated Heron was formerly grouped with the Green Heron as the Green-backed Heron.
The adult Striated Heron above was standing on a pier by the Chagres River in Panama after a big storm. In the Brazilian Pantanal in August, Striated Herons, though quite numerous, often retreated quickly when seen.
The juvenile, pictured directly below, is browner and more mottled than the adult, and has its own distinctive wing markings which form parallel lines near the wing edge. It was seen by the river edge.
Also seen in the Gambia (see comments section).
Below: Juvenile Striated Heron in the Pantanal, Brazil, Aug 2011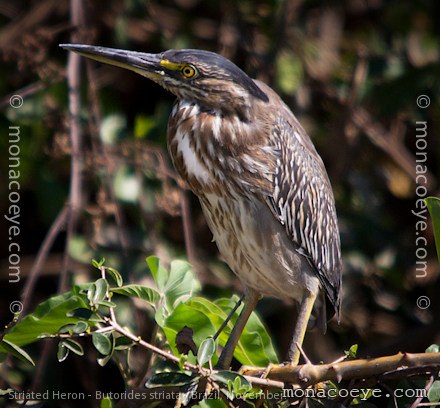 More photos...