28 May 2009 16:26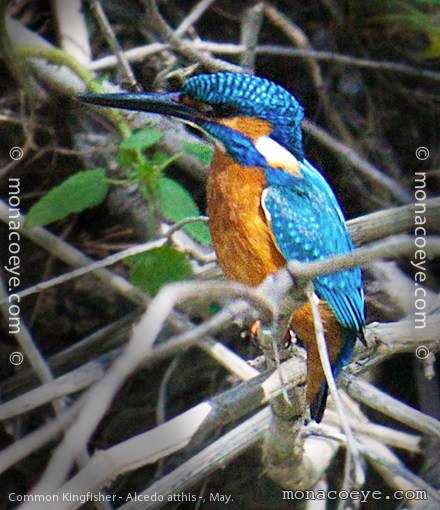 Copyright: monacoeye • Danube Delta, Romania • May 2009 • Do not copy without permission

Bird name: Common Kingfisher
Latin:
Alcedo atthis
Other: Martin Pêcheur d'Europe (Fr) • Eisvogel (De) • Martín pescador común (Es) • Martin pescatore comune (It) • Ijsvogel (Nl) • Kungsfiskare (Sv) • Guarda-rios-comum (Pt)

Family:
Alcedinidae
•
Kingfishers
Range: Eurasia, North Africa
Similar:
One of the most beautiful European birds I have seen. On a first tourist trip from Tulcea, I was very pleased to pass several of these fantastic birds sitting on the branches of trees overhanging shaded waterways.
Also seen in various places on the Cote d'Azur, including once in Monaco.
More photos...