30 July 2011 00:18
Copyright: monacoeye • Santa Lucia, Ecuador, Feb 2011 • Do not copy

Bird name: Andean Cock of the Rock
Latin:
Rupicola peruvianus
Other: Gallo de la Peña Andino (Es)

Family:
Cotingidae
• Cotingas, Cock-of-the-Rocks
Range: Venezuela, Colombia,
Ecuador
, Peru, Bolivia
Similar:
The Andean Cock of the Rock is a superb bird, emblematic of the Mindo - Choco region. Tours can be taken to visit Cock of the Rock leks at several places, where anything from two or three individuals to two or three dozen males will gather daily in a lek at dawn to be selected by a female. Good weather helps and the "summer" (around June) is said to be the breeding season.
Photography is difficult for all but the latest generation of cameras, because you are shooting in the dark - flash is not allowed. If you can shoot above 3000 ISO and have a fast, stabilised lens, you should be OK.
Santa Lucia has a very good lek, well over a dozen males turned up on the day we attended, despite it being off-season, with no female and rain in the night. But it's a fair old trek in the morning - a couple of hours before dawn, some through deep mud on steep paths. Before that, just to reach Santa Lucia involves an excruciating two-hour walk up the mountainside in thin air, unless you happen to be a mountain goat, in which case it will take you an hour.
I saw a female flying though the forest at San Isidro - it perched above us.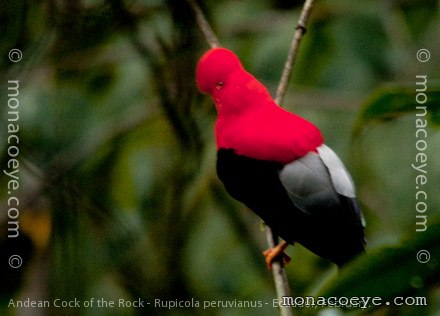 More photos...