29 March 2013 00:19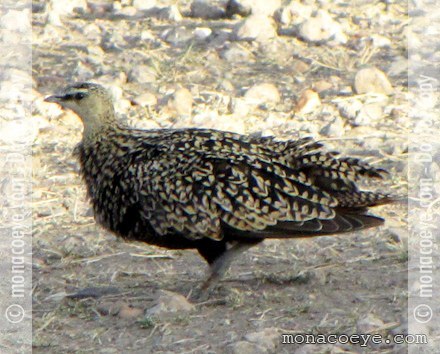 © André S - monacoeye • Serengeti, Oct 2009. Female Yellow-throated Sandgrouse.

Bird name: Yellow Throated Sandgrouse
Latin:
Pterocles gutturalis
Other: Ganga à gorge jaune (Fr), cortiçol-de-garganta-amarela (Pt), geelkeelzandhoen (Nl)

Family:
Pteroclididae
•
Sandgrouse
Range: Angola, Botswana, Eritrea, Ethiopia, Kenya, Namibia, S Africa, Tanzania, Zambia, Zimbabwe.

Similar:
The Yellow-throated Sandgrouse lives in sub-Saharan Africa. It is one of 16 species of Sandgrouse which now have their own order Pteroclidiformes - previously they were with Pigeons in Columbiformes.
Glad to have these photos of the first Sandgrouse on the site, sent in by André and Tom.
The general distribution of the other members of the Sandgrouse family is Africa and Asia, with two species in southern Spain, one of which, as mentioned, sometimes ventures into France.
These Yellow-throated Sandgrouse were seen in the Serengeti in Tanzania. The female is pictured above and has strongly contrasting feathers and facial stripe. The male, below left, has a dark neck stripe and facial stripe.
Below, Tom C, male Yellow-throated Sandgrouse, Tanzania.