29 March 2013 13:37
© monacoeye • All rights reserved, Lagoa do Peixe • November 2009

Bird name: Sanderling
Latin:
Calidris alba
Other: Bécasseau Sanderling (Fr) • Maçarico-branco (Br) • Correlimos tridáctilo (Es) • Playerito blanco

Family:
Scolopacidae
•
Sandpipers
,
Curlews
Range: Worldwide

Similar:
Another long distance migrant, the Sanderling breeds in the Arctic Circle and then heads to southern Europe, South America, Africa and Australia during the Arctic winter. I've seen one in Nice, in May, presumably migrating north.
The photo above was taken in Mostardas in southern Brazil in November. The Sanderling in non-breeding plumage has tones of light grey, with a dark shoulder and a wide white wing bar, which is visible in flight. The head is light, and chest and belly white. Breeding plumage is different … darker and more rufous.
Sanderlings feed on the beach just beyond the breaking wave, running back and forth as the water advances and recedes.
Below, Sanderlings in Gambia, Feb.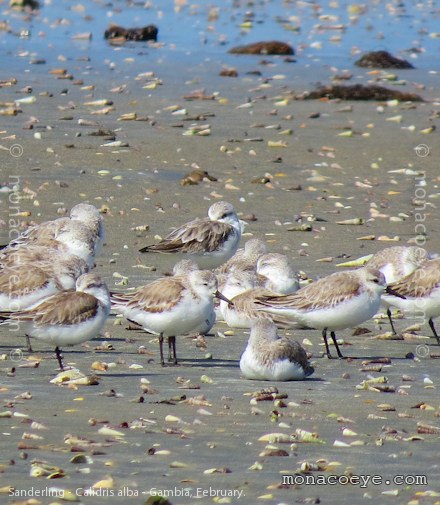 Below, Sanderling at sunset, Zaandvort, Holland.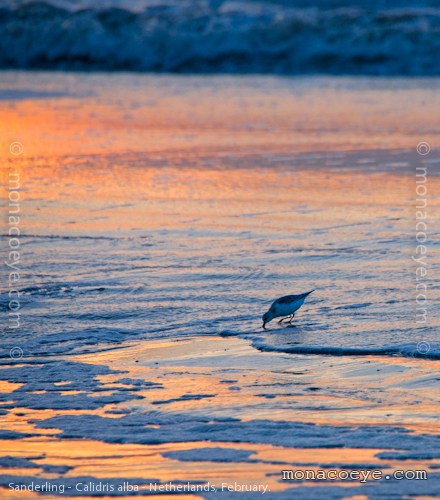 More photos...